Written by Raan Shalom, and Directed by Dean Parker, CALL THE SHOT is a poignant exploration of the relationship between a bartender and his patron.
The entire film takes place in a bar. By Parker not revealing where the bar is, he allows his audience to decide for themselves – which gives it a personal flavor.
A drink pours into a glass. The audience comes into a conversation between Jerry (Yang Miller) and an unnamed bar patron (Lejon Woods). The patron can't seem to remember who his conversation was about – his ex wife or sister – but he explains to Jerry that both are dead to him. Exit Jerry and the patron is the only customer left in the bar.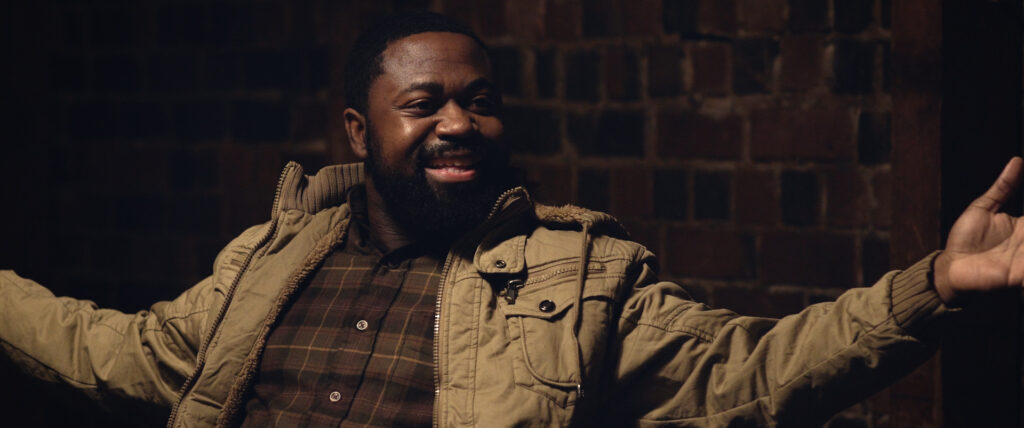 The young bartender (Chanse McDuffie) pours another drink into this stranger's glass. The bartender announces that drink he just poured is "last call" and that the patron has about 7 minutes until the bar closes.
"Alcohol is my only reliable friend. A friend whose companionship must be bought." "You know what you can't have too many of – bartenders. You see bartenders are your fake friends and fake friends are the best kind of friends."
A wad of hundred dollar bills is placed on the bar for the bartender to keep the bar open and to "just listen." The bartender accepts which alters the fate of their night together. The patron goes and locks the door. "I need your help."
What unfolds is a life-defining conversation between these two characters. The patron is suicidal – informing the bartender that he chose him to carry out his death wish.
Woods and McDuffie create rich, layered characters – so much so that the audience is invested in every moment.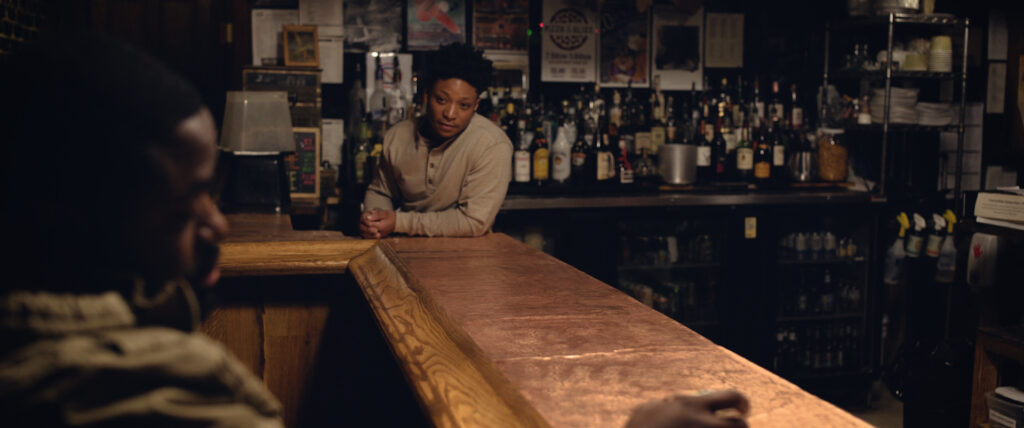 The simplicity of using one set (the bar) brings our focus in on the characters themselves. The rich color palette in the film gives a warmth and familiarity to both the bar – and the characters. Lighting and shading adds to the visual beauty of the film.
Cinematography (Christian Goode) is captivating – especially the choice of long shots across the bar. The editing (Parker) makes for an uninterrupted journey of two souls who meet under unimaginable circumstances.
Jerry's views are raw and real regarding the world he lives in. His inner conflict is played beautifully opposite his casualness throughout most of the film. There's also a light humor that plays deliciously against the dark circumstances.

CALL THE SHOT is a wonderful example of a character driven piece. This story explores one man's heartbreak – and desperation – with life. He speaks of family ties broken, being deceived by friends and not wanting to cause more hurt than help. The script is wonderfully written in its thought provoking manner.
The story leaves you thinking after the film – and its surprise ending – are over. We feel we might know exactly who this unnamed patron is – he is possibly someone we know – or perhaps even ourselves.