Tomer Shushan's Live-Action Short White Eye shares the harsh realities of undocumented immigrants on the run. Winner of the Oscar Qualifying Award at SXSW Film Festival 2020 and Urbanworld Film Fesitval 2020.
HOW DID YOUR CAREER IN THE FILM INDUSTRY START?
White Eye is actually my first independent film after my film studies in 2016. I guess the passion for making films was always there. Since I remember myself when I needed to tell someone a story that happened to me, I was always making it so dramatic, trying to make the other side get inside the story and feel something – even if half of it is total fiction. I was always about the experience of the person that listened to the story more than the story itself. Took me a few years to understand that. After my army service, I worked an extremely boring job and I met a guy that exposed me to lots of great movies that were not in the cinema. It was almost impossible to find them, but if I succeeded I was hypnotized. One film after another, each one was better than the one before. I became obsessed with watching this list he gave me. And after watching one of the Dardenne brothers films, I decided to start filming things and from there the way to study film was pretty obvious. Since then I feel there is nothing more organic for me than to tell stories with sounds and visuals.
Having written this story based on an experience that happened to you, do you feel that making this film has helped you grow as a person and filmmaker?
Totally. I feel that this incident was so powerful because it showed a different side of me that I didn't know before. A side that I don't want to meet again. And every time I watch the film, it takes me back and confronts me with this moment. This experience made me learn how to breathe. How to take a moment to choose an action that won't harm anyone in every situation in life. In some way that is the main reason I made this film. Maybe it's going to change something in some of the viewers. Maybe it will save lives, who knows.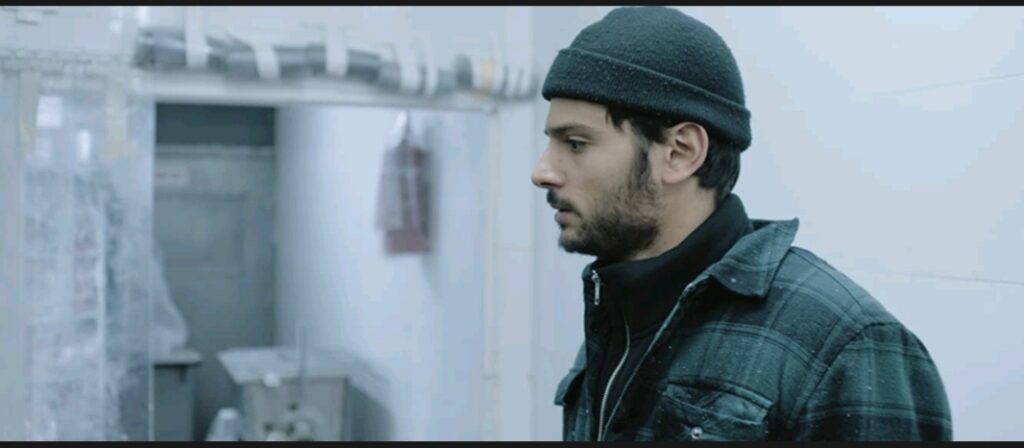 You made the bold decision to tell this story in one take. Tell us about this choice and how you worked with the cinematographer Saar Mizrahi on this.
I mentioned before that I learned how to breath again. It's all about that. I didn't want viewers to breathe, like the main character in the story. So I decided to do it in one shot, one take, one breath. We watched every one shot films/scene that we liked and started to build a plan. Most importantly we build the motivation of the camera in front of the story. The technical side was not easy. Since we shot the film with a camera that moved on 360 we created choreography for every member on the set. Was pretty challenging but in the end we found the formula to make everything work.
Most of the funding for ​White Eye c​ame from the Makor Foundation for Israeli Film and Television. What other routes did you take to get funding for the film?
The film mostly was supported by Makor film foundation. And the rest was money I saved for this film. It's also important to mention that Makor gave us a distribution grant after we became Oscar qualifying so they were there for us the whole time and without them I wouldn't be able to make my first film.


You decided to cast a real refugee for the role of Yunes. Tell us more about why you made this decision and why it was important to you.
There are things that are hard to explain in words, but people that wake up in the morning to a place that make them feel not welcome have something in their eyes. I wanted to bring this to the film knowing it is going to be hard to find a person that will want to act in a film and also will do it well. But I followed my instinct and when I met Dawit at 3am washing dishes in a small hamburger place I made him meet me the next day. When he understood his role he got so drivin, he saw this opportunity to be the voice of his community. And there is nothing better than to create from your guts.
What directors or films have influenced your style as a filmmaker?
For me at the top will always be Bela Tarr, Theo Angelopoulos, Nuri Bilge Ceylan, Catherine Breillat, Spike Jonze, Jim Jarmusch, Dardenne brothers each of them have so much impact on me. There are many others but I thought about this combination that completes me as a director. Each of them touched and shaped me in some different way.
Besides capturing the story in one shot, were there any struggles or obstacles you faced during production?
This film was created after I was visiting my friend at his meat factory and saw, by accident, this fridge. Inside his Sundanease worker cleaning big meat parts. In some sad cold way the caw and the guy look the same, same fate. I understood I have to use this image and for me it was challenging to create the whole film around this image I created in my mind. I had to change the whole screen and the whole shooting plan that we were working on for a few months. But every person that watched the film tells me how strong this moment next to the fridge was.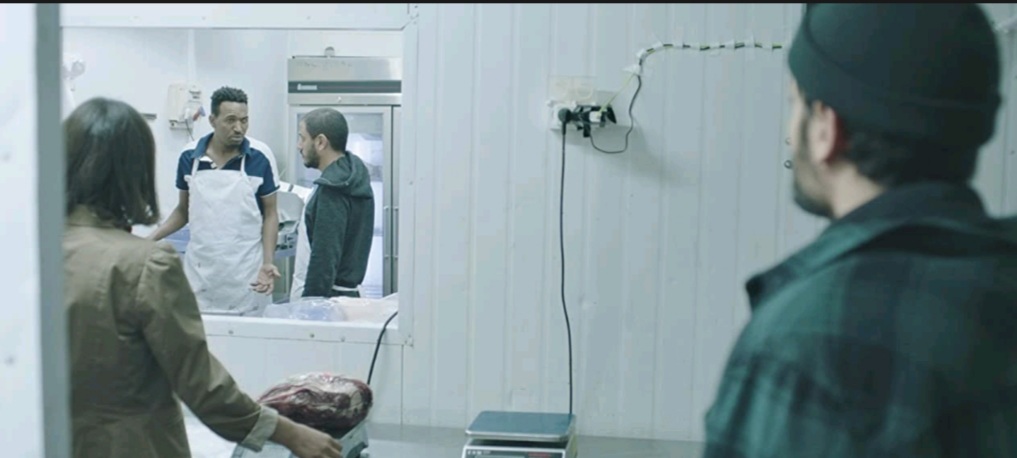 White Eye w​on the Oscar Qualifying Best Narrative Short Award at SXSW Film Festival. What does this amazing accomplishment mean to you and the film?
We had our International premiere at SXSW after one that we received negative answers from few big festivals. But I'm sure it was for the best because the winning in SXSW opened for the film and for me lots of doors, mostly in the US. In less than a year the film got selected to more than 70 film festivals all around the world and won 22 awards. I never dreamed of this number and it feels like a dream. It comes with a bitter taste since I can't experience these festivals physically but I still feel very blessed mostly because the main reason was accomplished – the film got to lots of eyes and hearts.
You are currently working on a feature film titled ​Between The Sand Grains. ​Can you tell us more about this project?
Between The Sand Grains is actually my development to White Eye. There I will deal and touch the same topic that confronts people from different sides of the society. This time it will be in desert, in rich people events. When Omer and Yunas meet again, they bond over their loneliness and embark on a journey to determine their fates.