Vast landscapes. Mesmerizing music. An openness to spiritual belonging. All of these elements were introduced to audiences within the first few seconds of Monumental – a short film written, directed and edited by Aleksa Ristovic.
The film opens with captivating and highly-saturated drone shots of a rocky and textured shoreline. As the enchanting soundtrack of dissonant synthesized chords (Anton Yakshibaev) accompany the footage (shot by Ristovic), viewers are able to witness the stark contrast between the movement of the tide and the stationary detail of the land beside it.
As the greatness of the landscape continues to wash over the screen, a voiceover narration emits (performed by Victoria Harrild), introducing the theme of the piece with an alluring intent:
"Like everyone else, I look for the right place: where to leave my mark on the world."
As these words are heard, a man's body (Ristovic) is seen in the midst of the rugged terrain. He stands tall with his arms outstretched, face concealed, allowing his anonymity to create a vessel for viewers to place themselves within the realm of the film.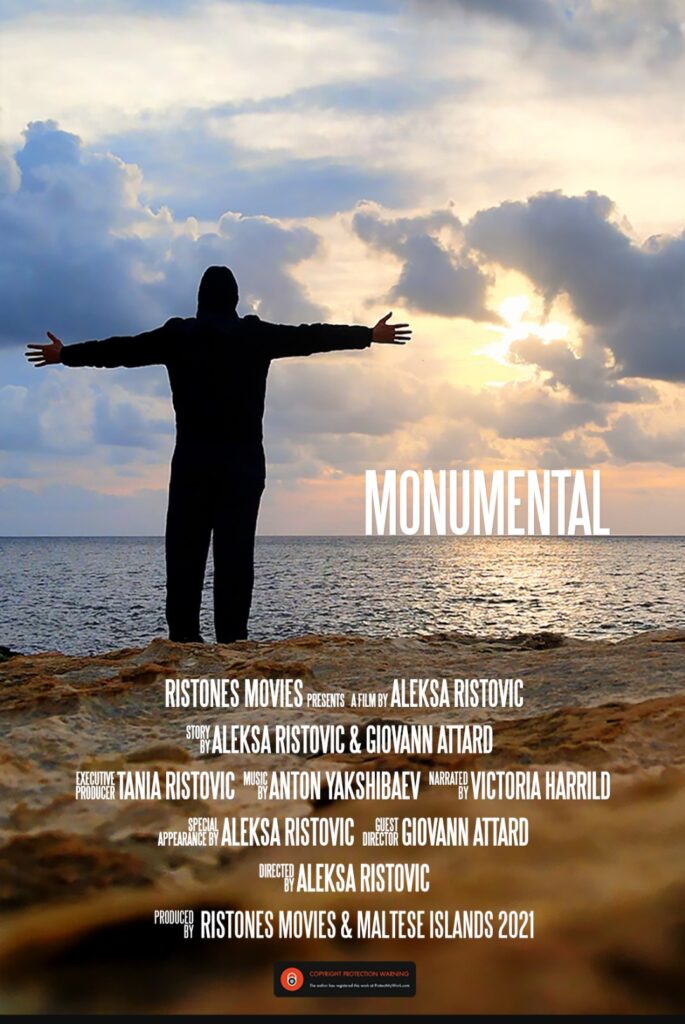 The following scenes continue with this same pattern: new landscapes and monuments are introduced from various drone perspectives, and the unnamed man mirrors the motionless tranquility of the godlike stone statues and eroded land beside them. The statues exhibit a sense of openness and transcendence; some have outstretched arms while others resemble divine burials, and the man's imitation of their positions alludes to a sense of a deep and metaphysical connection. The narration continues to use a poetic rhythm and thoughtful language to establish this spiritual journey – the desire to know one's purpose, meaning, and place within the world.
Monumental has many great qualities as a film. It was shot entirely by drone, taking viewers to new heights (literally and cinematically) that would have otherwise not been possible. The distinct perspectives and powerful narration of the piece created a sense of ethereal wonder – allowing space for viewers to listen, explore, and reflect upon the meaning of the film (and of life itself). At times, the narrator's inflection felt slightly theatrical – while its intention was understood, its pairing with the soundtrack occasionally felt distracting. Still, the power of the performance was something to commend, as the tonality would often match the force and movement of the accompanied terrestrial visuals.
Overall, the reflexive story and beautiful cinematography produced a sense of pensive speculation that many can admire, and its meditative nature grants viewers, in under six minutes, an escape from the mundane and an opportunity to dive into the divine.