A place is never just a place. It's the people. It's moments. It's the time. So says the crucial dialogue in Shutter the Doors.
But when the place goes away, everything else is swallowed up with it. That's what Sam (Ian Buchanan) is dealing with, and the fallout is what we are left to digest in Sheri Sussman's poignant 13 minute short film.
The locale is Sam's Place, and the melancholy of the musical opening by Dave Eggar and Phil Faconti lets us know that the real life blues are on the way. As such, the darkened empty bar gives off exactly the atmosphere you'd expect. Casablanca after hours, Sam downing a stiff one feels like you've just endured the sting of his scotch. "I keep thinking it will get better," Sam proverbially stirs the drink.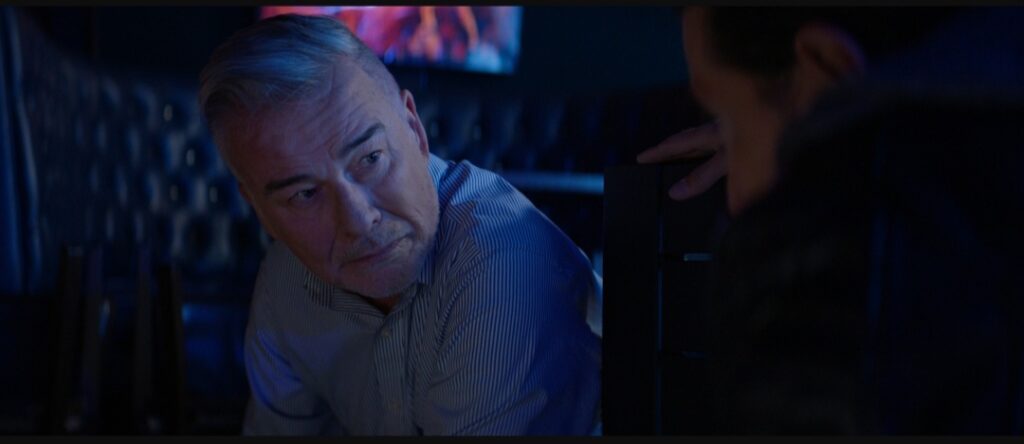 Of course, the despondency requires a bartender to hear Sam out and help drown the club owner's sorrows. "I know Sam, I know," Jimmy (Billy Wirth) tries to add the chaser.
The Justin Janowitz cinematography setting also sets a tone. Sam's Place is not only empty after closing, but the quiet, darkened and still background says it's been heading in that direction for a long time. Thus, the glasses free to clank like they are the last remaining sounds in the world, Sam and Jimmy's interruptions demand that the duo is present and the groundwork is fertile for a back and forth that hopefully can shed some light for Sam.
Clearly understanding the moment, Jimmy goes full on bartender mode and gets philosophical. One door closes, another opens, you're a blank canvass and tales of Native American vision quests are attempts to lift Sam's disposition.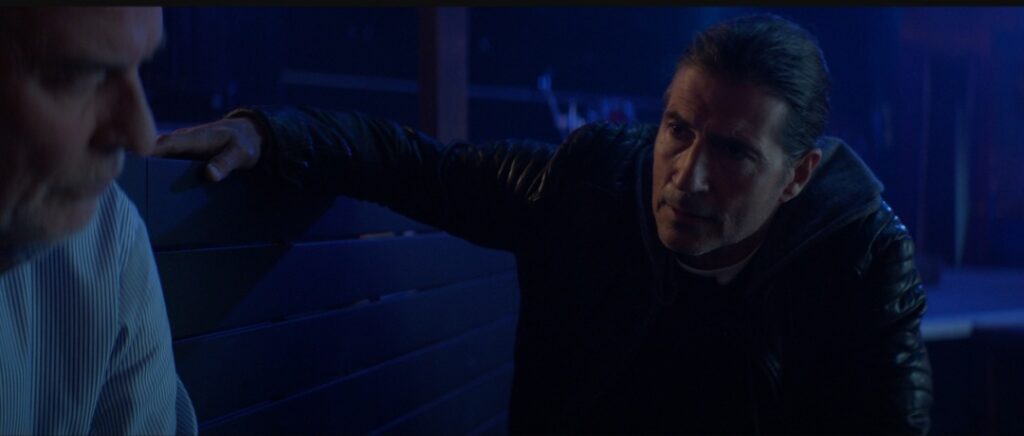 Wirth's sincerity pervades the darkness, and Buchanan's downtrodden demeanor and labored responses show a man trying his best to accept the light. So what we have in Shutter the Doors is the rare occurrence of men expressing vulnerability and being open to the care of one of their own.
Unfortunately, the presentation feels a little forced. The characters are too in touch with the pain all around, and as the dialogue goes on, some of the authenticity is lost. Wirth is too good a guiding light and Sam shows not enough reservation over making himself completely available.
Still, the course that Sussman is trying to chart is noble and the seriousness of the filmmaking shows it. The inspired effort on the part of the actors, the way the lighting is set up to bring life to the heartbreaking drama and the manicured look of a lonely bar in demise speaks to an issue that the writer/director cares deeply about. You should too, because Shutter the Doors deserves praise.