Take2IndieReview sits down with Uzo Oleh to discuss his BAFTA and Oscar Qualifying film – EDICIUS.
What was your childhood like, and how does that inform your art?
My childhood was filled with lots of art and creativity. I had all the time and imagination but none of the resources. So I think those conditions nurtured the need to solve problems creatively, which fueled my imagination, which in turn led to more creative thinking and a broader perspective. Like a self-perpetuating cycle of ideas!
How did you come up with the concept of EDICIUS?
I'm obsessed with the "self" and what it means to define one's identity. There are so many things that comprise who you are, and influence you. Asking the question – why do we sometimes behave against our best interests or our better judgement? So it started with this idea of what would happen if you could physically have a conversation with those opposing voices in your head. Also, I love a Greek tragedy. Jason's fatal flaw is narcissism, and there are various undertones of Greek mythology sprinkled throughout the story. Even the title, which is suicide backwards, is a nod to Odysseus.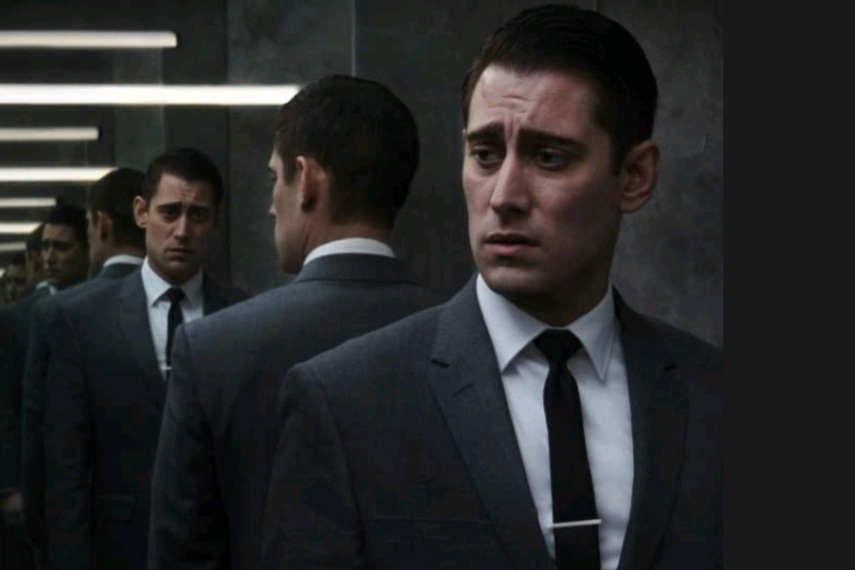 You're also a photographer whose work has been featured in Vogue and I-D Magazine. How does photography inform your filmmaking?
All of my previous work has taken me on a journey that paved the path into filmmaking. I haven't looked at any particular area individually, because I constantly want to challenge myself and explore new things, which cumulatively led me to EDICIUS, which I'm super proud of. Whether it's through still images or film, I want my work to tell a compelling, moving story. Now that I've made this short film, I'm hooked – this is what I want to do.
You have worked with a diverse range of talent including Lady Gaga, Cara Delevingne and Idris Elba. What has that experience been like?
One of the things that really inspired me over the years is the work ethic of other artists that I've collaborated with. Work ethic, for me, is the ultimate game changer. Talent is an absolute necessity, but work ethic is what elevates projects to another level and I think that's the main reason we were able to complete EDICIUS during such complicated times.
How difficult or easy was it to film the "double Jasons"?
We were able to achieve the "double Jasons" through the use of motion control, which was an amazing experience. And of course, Michael gave an amazing performance from both sides of the mirror, as it were. He is an insanely dedicated actor and he rehearsed this role inside out – both in terms of character and also the blocking and choreography, so he was able to achieve perfect timing for both characters. The crew and post-production team did an outstanding job as well, and in such a short amount of time! Really, all the pieces just fell into place and the finished effect looks fantastic.

What was the casting process for this film like, or was Michael Socha always attached?
At one point, I was actually considering using an actor with a twin to play the parts of Jason and the Intuition. I really wanted to find someone that could convey a narcissistic, calculating guy, while also showing very raw vulnerability. When it came to choosing the lead, Michaela Cole, a spectacular actor, had worked previously with Michael and she put us in touch. As soon as we did the first readthrough, I knew we had the perfect guy.
EDICIUS is already making a bold impact on the international festival circuit. What's your hope for the film?
First off, it's amazing that the film is being seen. EDICIUS was made to be seen on the big screen with a shared audience, so experiencing it on this scale is incredibly exciting for me. I hope people love it, I hope people can appreciate it on whatever level connects with them most. This film has many layers, which I think can be enjoyed by any kind of film fan. Down the line, I'd love for the film to reach as wide an audience as possible and to expand and extrapolate on Jason's world, explore more ideas by asking those difficult questions surrounding "the self" and who we are as much as possible.
The detail that went into EDICIUS is captivating. How long did it take to film and what was the most difficult part about filming?
The shoot ended up being in two parts. We shot all the interior scenes in December 2019 over a week. Then, of course, COVID happened and everything shut down. We got lucky and managed to complete the second part of the shoot in between lockdowns in the summer of last year – 9 months later! Many of the original production team weren't able to return for the film's completion, so we had to work double time to assemble a crew in the short window that we had. Luckily, we got the most terrific team, everyone worked incredibly hard and we finished all the exterior shots at 3 Mills Studios in just two days! It was an amazing collaboration and everyone, from industry veterans to hungry newbies, really stepped up and made this film a reality. So proud of what we achieved together, especially in such a challenging time.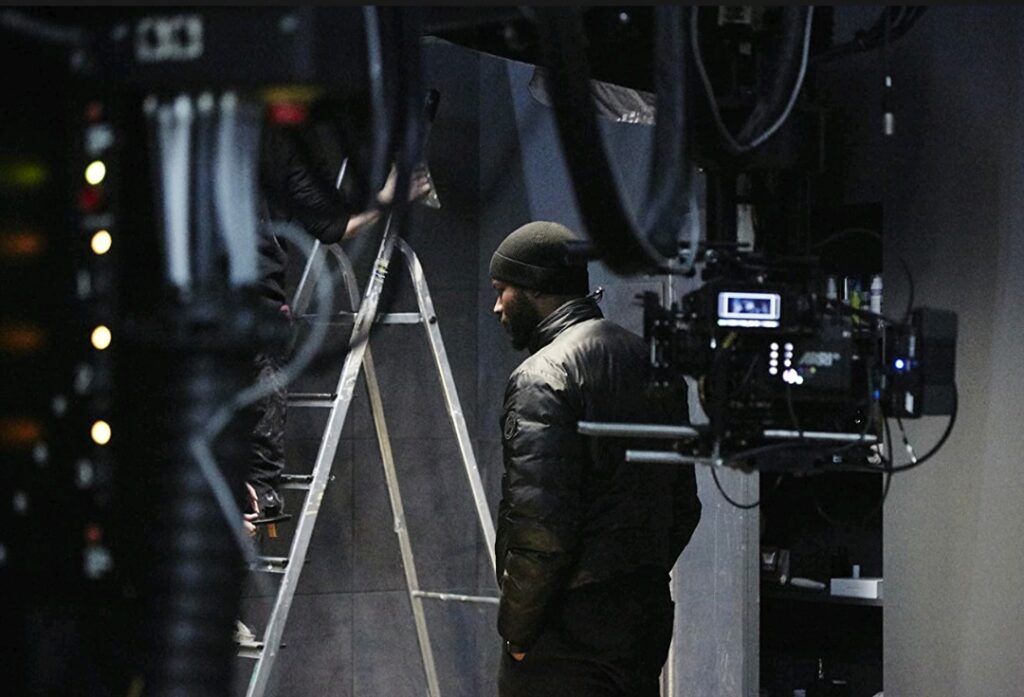 Whose work has inspired you and who are you following right now?
I love psychological thrillers and genre films. Legends like Hitchcock and Kurosawa. Nolan, Fincher and Alex Garland I have a lot of respect for. Any filmmakers that constantly challenge themselves and are not afraid to do something daring. A lot of my all-time favorite filmmakers are still alive and making films today, so I want to make sure that, as a newcomer, I'm contributing something of value, something unique and unseen to the industry. I want audiences to leave my films with their minds blown!
Did most of the film reveal itself for the first time in the editing process?
Because of the technical requirements, needing to choreograph and plan all the camera movements around one person playing both characters, we really had to have the edit pretty much formulated before we started shooting. With one actor executing a double performance, we didn't have as much freedom as you might normally. However, our editor – the insanely talented John Smith, who's been in the game for decades – did a phenomenal job. After literally one conversation, he understood exactly what I envisioned and sent me a cut that's virtually what you see in the final version. The guy's instincts and ability are just second to none.
What's next for you?
I'm working on the feature version of EDICIUS as we speak, I'm looking to expand that world and there's a lot of support and excitement for it already, which is amazing. I'm also developing a bananas TV series, something that's definitely not been seen before, and I'm in the process of assembling a killer team to really get it going in the New Year.