Ghost Town is an interpretive dance film that speaks to isolation and emptiness found in the most unlikely of places. The film is set in a historic casino in Asbury Park that was burned down in 1928. However, only people who have walked through its vast, open halls would recognize it, as the film does not clue the audience in to the significance of its setting.
Maya Mizrahi (Director and Performer) opens the film in the center of the old casino's massive space. She is dressed simply in a long black dress with long flowing hair and bare feet. The wind blows steadily as she begins her carefully executed movements. Mizrahi dances seamlessly, flowing from an outstretched arm to a broken wrist, then there is a flick of a leg into an extension that leads her into a spin. She glides down the long hallway, inching ever closer to the exit, yearning to be set free to the world beyond. Each movement blends well together, and Mizrahi gives the sense that she is reaching for something, never to attain it, and then retracting within herself.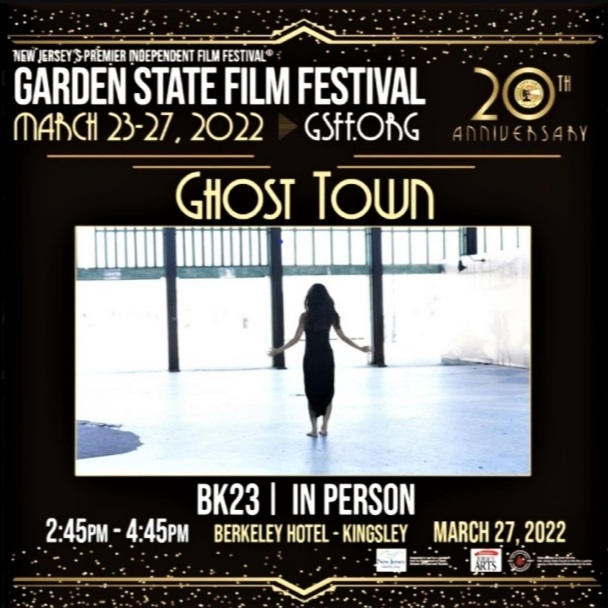 One of the most interesting aspects of the film are the passerby and onlookers. Whether it was the film's narrative intention or not, the people on the periphery of Mizrahi's performance added to the haunting and empty feeling of the piece. She didn't notice them, and most of the time, they didn't notice her. A true ghost in every sense of the word.
Elevating the film's themes of brokenness and disorientation is the exquisite music, designed by MacKenzie Kugel. The sound was mostly driven by woodwind instruments and it added that nostalgic quality to the modern visuals of a broken down building, thanks to videographer Michael Burke.
Ghost Town lives up to its name showcasing a lone performer, yearning for connection and dealing with loss, as well as paying tribute to the past.