Danny Donnelly's Something Borrowed is a spry short film exploring the aftermath of a choice made – and why one may be tempted to participate in a lie. The story begins with a one-by-one intro of three friends. Angie (Aimee Theresa) is face down on a dining table while a coffeemaker gurgles in the background. As Ang lifts her head, a scrabble tile is stuck to her forehead that spells out: Y. Tina (Jennifer M. Kay) is positively spritely as she beelines for the coffee. We then meet a third friend Jules (Annie Raczko) who crawls upstairs crying out for a medic. The friends battle their hangovers with pills, coffee, and a blurry recap of their evening.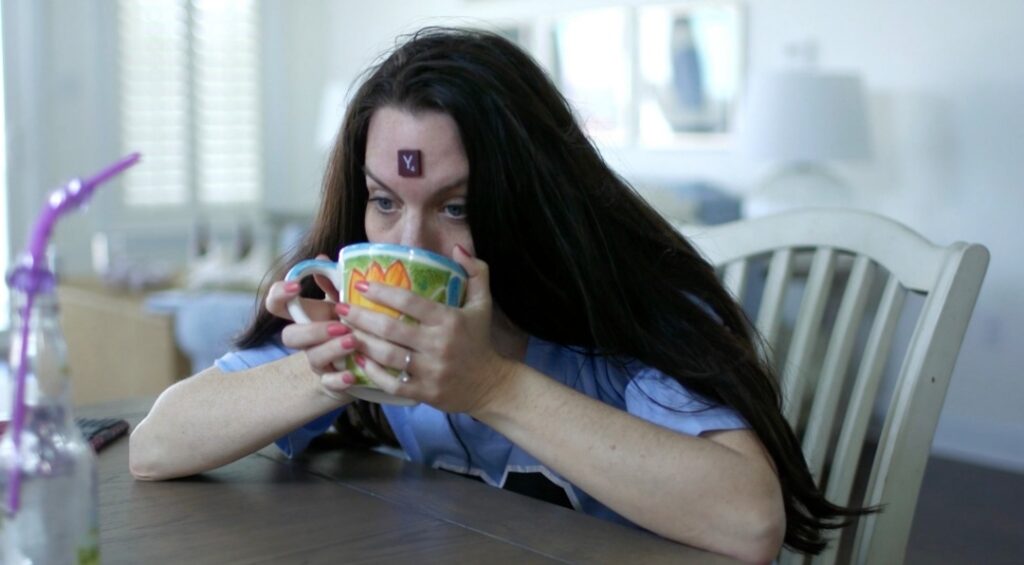 Cut to the afternoon before when the plan was hatched. Ang reveals her brother Chris (Frank Williams) will be crashing their girls' weekend to propose to his fiancé. Ang has been holding onto the ring so he doesn't propose somewhere 'stupid'. Tina immediately needs to see the ring and try it on – no luck it's her size – she passes it to Jules who dismisses it could ever fit. This leaves Ang to try on the ring – and it fits her perfectly. Tina lights up and demands they pretend it's Ang's bachelorette party, pitching free drinks and dancing as the recipe for a memorable night. Even Ang can agree the story will be a bonus to the recipient of the ring.
The next morning, the girls have moved past recapping and are now focused on loosening the ring from Ang's finger. A knock at the door alerts them to the brother's arrival with his fiancé. A mad dash to hide bachelorette props ensues. The girls miss a few, thankfully, as delightfully bizarre swoops and reaches are made to recover these artifacts without the brother seeing. From here, viewers will have to tune in to find out if the ring comes off and if this proposal has any hope!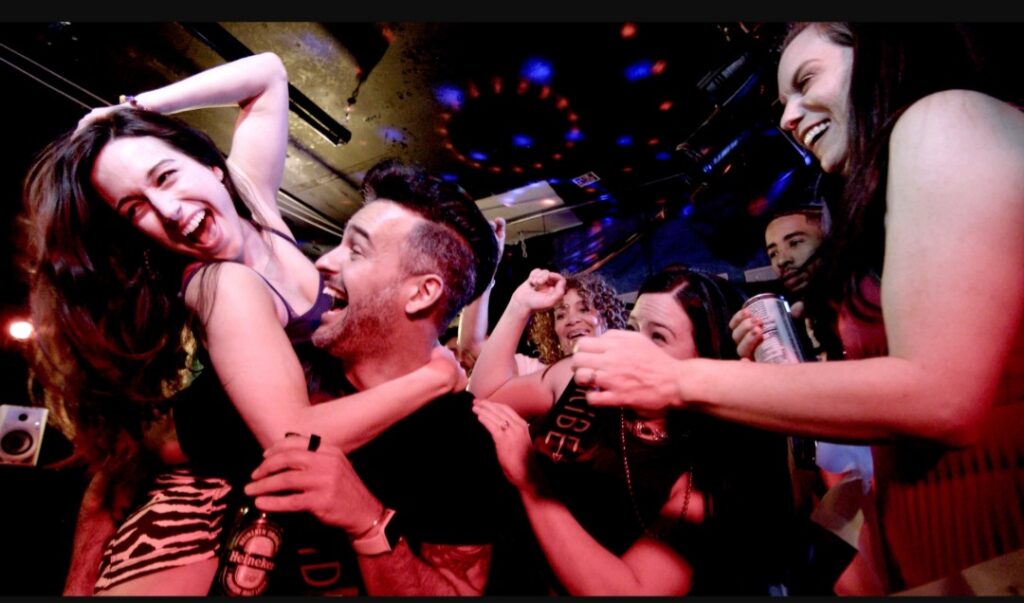 Donnelly juggles many creative hats as director, producer, cinematographer, editor, sound designer, sound mixer and colorist. His work here is solid, building a believable world from the beach house to the club. His actors shine in their natural settings, all giving strong performances. Kay draws the audience in with her sharp choices and effusive charm.
Viewers will appreciate the elements of surprise from the script (Aimee Theresa) to the direction, in scattered comedic moments, particularly at the finale. The set dressing is thoughtful with its choices from a bride banner and nautical tchotchkes, to the wine glasses with just a drop left in the base – a far more interesting choice than clean and empty. Every prop is part of the story or a participant in one of the many fine moments of physical comedy. One area of weakness is the score which doesn't match the finesse of the rest of the short's appeal.
Something Borrowed guarantees a good laugh and will remind audiences of foolhardy moments in their own friendships – stories that celebrate friends and their imperfections.