BASED ON TRUE EVENTS, Baltag's film deals with a time between 1949 and 1951 when, following the establishment of the Communist regime, all students were imprisoned and "re-educated". The students were tortured or killed if they did not obey. The subject of the Pitesti Experiment was seldom discussed. Baltag's film is the first feature film on this matter.
Where were you born?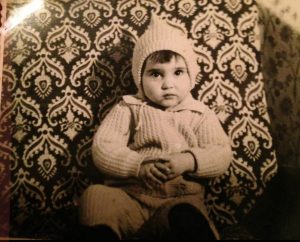 I was born in Botoșani, in the Northern part of Moldavia, Romania, which actually has a pretty impressive history. In 1439, it was considered ''the Mongols pillaged all the way to''. During the Moldavian – Polish conflict, the town was set ablaze by the Poles (1500, 1505, 1509) and between the late 14th century and the beginning of the 15th century, Germans, Hungarians, Armenians were settling there. In the 17th century, a large Jewish community joined the area. Botoșani was a market a town (since 1400) and, in 1579, hosted the biggest and the oldest fair of Moldavia. During World War II, the city was captured by Soviet troops. Botoșani gave the world some of the most famous Romanian cultural representatives, such as Mihai Eminescu, the Romanian national poet, Nicolae Iorga, one of the most prominent Romanian historians, Grigore Antipa, a renowned biologist, s.a.m.d.  Giving such a historical background, maybe it is more than a coincidence that I was born with a strong belief in diversity, inclusion, equal rights, free choices, respect, and education – all of these beyond race, gender, skin color, and nationality.
Were the Arts a big part of your childhood?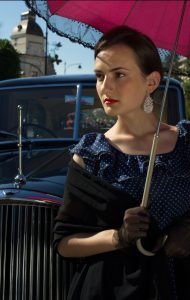 I remember coming home from school and seeing my father drawing or painting (he is a math teacher). I know he had a big passion for photography and used to take thousands of pictures from the places he traveled to (he used to be a big traveler, now he is 84 and does not do it that much, haha). When I was little, I remember spending the night watching Russian films with him, as well as watching TV shows like Dallas or old Asian shows based on true stories. My father told me that his mother, my grandmother, was a piano teacher, and he got a passion for piano from her. We never had a piano in our house, but I remember when my parents visited during my studies in London, and my father played the piano in my student accommodation hall. I took a picture of him, and I smile each time when I remember that moment. It was very emotional. When we were children, my sister, my mum and I would often sing songs together. My mother has a beautiful voice, and my sister takes after her a lot. I guess I inherited my father's voice, haha. Even though I did not have toys or too many cartoons as a child, I think I had some artistic examples to help me grow. Over time, I started to write poetry and short stories for competitions, as well as painting competitions – passions which vanished shortly after I began to study seriously in the primary and secondary school.
What was the moment that you knew you wanted to be a Storyteller/Director?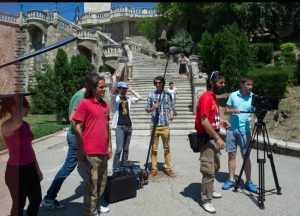 Late. Very late maybe. In 2011, I was finishing my 2nd Master's degree and I developed experience as a fierce journalist and got some strong academic inclinations. However, I still felt like something was missing. I was searching for a job which gives lots of adrenaline, diversity, everyday knowledge, a mixture between arts, technology and science, something which works against routine but still, must be mathematically well organized. I was searching for passion. I have found passion when I did my fist short film, an adaptation of 'The Memory of Water' by Shelagh Stephenson.
Did you have support from family and friends embarking on a career in the arts?
I think it's very important to get support from friends and family. I think you can grow beautifully if you have the right people around you, who can help you develop and give you strength and encouragements. It's very important to have people who believe in you. On the other side, Van Gogh's work was painfully discredited by his own father and he still, although posthumously, became worldwide renowned. I guess YOU are the center of the universe when it is about what you really, really want to do in life. My father called me today and at the end of the conversation he told me that I will succeed in everything I do if I truly believe in it. I guess he is right. If you truly believe in it, never give up and keep a smart, efficient and hardworking attitude, everything is possible. About the support from friends and family, what to say…I guess that they all were a bit confused. I always wanted to become a doctor – a surgeon, when I was little. In primary school I was reading medical books, – well, simple medical books, haha – but anyway, I was preparing seriously for this career. In University, I enrolled in media and journalism school – even though nobody expected that – , but instead of being accepted by the Journalism Faculty, I was accepted by the Sociology Faculty, so everybody thought that I will soon become a sociologist. In the second year of university, I enrolled again at journalism school and took the exam for the second time, now being accepted. So, I continued my four years university with two faculties in the same time. My friends and family thought that I would get a job in any of those areas, and that I would get a job where I will be paid at the end of each month like them. Obviously, that did not happen and they sometimes thought I was playing with this film passion and sometimes asked me when will I get a real job. In this way, I lost some friends, while my family started to be more supportive. One day, during Christmas holydays, my mother told me that she wanted to make a donation to my film and this was sooooooo impressive, thank you mum!!!
Did you have formal training?
Yes, sure. While studying my four years in Journalism at the University of Bucharest, I took TV classes on, plus filming and editing seminars. Then, I studied film direction and film production during MA in Film, History, and Television at the University of Birmingham. Now I am pursuing my PhD in film studies. For a career in film, though, I guess it's important to mingle between practice and knowledge from various areas and be adaptable and able to reinvent oneself through continuous learning. It is essential to be innovative and not necessarily original. Remember, the 'Titanic' was the subject of over 20 films, yet, only one got the Oscar. School is very important, but it's more important to challenge your brain. If you want to work in the film industry, you cannot say 'this is not in my job description' in terms of duties and knowledge. As a filmmaker, you have to know areas from psychology, human resources, management, negotiations, math, physics, painting, astrology, geology, and many, many more. That's why I find amazing film directors coming from different backgrounds than film: Christopher Nolan (literature), Terry Gilliam (political science), Wes Anderson (philosophy), Steven Spielberg (degree in English), Ethan Coen (philosophy), etc.
You Directed two short films before this – FAITH AND FLAME and THE MEMORY OF WATER – how did Directing these films prepare you for Directing this film?
What to say…Directing a short film is a totally different than directing a feature length. The previous experience gave me the courage to go further, even though I didn't know at that time that "going further" was going to be so crazy. Being a filmmaker is extremely difficult, especially if you want to maintain your independence and do your own projects. Plus, I am a woman, a woman who wants to make her way in a male ruled industry. Just to give you an idea what this means: Women comprised 20% of all directors, writers, producers, executive producers, editors, and cinematographers working on the top 100 grossing films in 2019, up from 16% in 2018 (Research – Center for the Study of Women in Television & Filmwomenintvfilm.sdsu.edu). Furthermore, it is difficult to start from zero and build credibility. To get recognition. I'm competing with thousands of other driven filmmakers. Plus, even though there are now thousands of film festivals, you still need to compete to get access to the seven grade A festivals in order to complete your funding. For me, finances was the most difficult part of making the film. Spielberg got $500 from his father, meanwhile, like a lot of filmmakers, I wasn't in a position to receive that kind of money so easily. The prices for the film industry in Romania are the same as elsewhere in Europe. Color grading would go to 15,000 euros for a feature, just as an example. But any problem has at least 200 solutions and I am sure that my film will find its way to success. I'm in post-production at the moment and soon enough will have my feature ready for the theatres. This Corona virus hit us unfortunately, but I know we'll make it through.
Your film is based on a true story. It reveals one of the most terrible experiments in dehumanization. What is it that drives you to tell this type of story?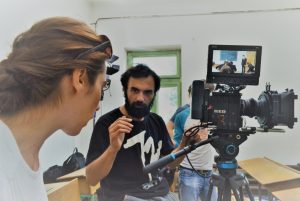 I decided to make this movie to raise awareness and give information about such a hidden, atrocious moment in the Romanian history. My movie unveils the horrors of the communist era. I conducted four years of research for this film. I read the books, watched documentary films, and met a few survivors. More than 5,000 students were tortured at Pitesti prison. Tragedies occurred there that we can hardly imagine. I have talked with people who had their parents in the communist prisons, I have seen their tears, I have touched their wounded hearts. I believe that the truth heals, and I believe that we need to know the truth, so we can grow from it. My film about the Pitesti Experiment is a contribution to remembering the horrors and abominable moments of Romanian communism. This feature is a gesture of commemoration and respect to the young people who suffered through persecution through mental and physical torture. It is so important to know our recent history – like the Pitesti Experiment– in order to learn from it and to make sure it never happens again. These atrocities should not be forgotten so that the suffering of these people will not be in vain. One of the film donors actually said: "All that is needed for the triumph of evil is for good people to do nothing. – Edmund Burke. Don't say that Pitesti experiment will never happen again. It depends on us, all of us, and what we do so it will not repeat.'' (Voicu Ciobanu)
The film deals with such atrocities as human torture and suffering. These can be the hardest films to view because they are based on real life events. Did you ever question if you were going to be able to tap into the black soul this film represents? It seems like a daunting task for any Director.
Not sure how to answer to this. For me, the subject was far more important than anything else. It is vital to know our past, so we can learn from it, whether it's beautiful or painful. The latter is the most important, no matter what, as this is how we can avoid more atrocities. ''Black soul'' is a little bit overused. I see it as a part of history, so I presented it that way. Of course, this is art and each director choose how to use their style to present facts. My style at that moment was to put the exact reality in front of the viewer's eyes.
Your film is inspired by the life of the most infamous tormentor of the Communist Regime, "Herman" and tells the unspeakable story inside the Pitesti Penitentiary, the worst prison ever created by the Communist Regime. It is the story of a promising and bright young man, who, due to dire circumstances, radically changed into one of the most controversial characters in Romanian history. Is there a connection for you, personally, in wanting to tell this story?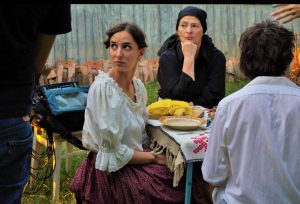 No personal connection. A passion for history maybe. A taste for good film subjects I guess – this is an awesome topic for a movie, any director would acknowledge that. Plus, a negative character would always challenge the director's skills, perspectives, and experience.
Do you have a background in history? The two are definitely connected in this film.
Yes. I have an MA in Film, History and Television at University of Birmingham, UK. I have a passion for history and revealing unknown, hidden topics.
The idea of producing and directing a feature film about communism in Romania came to you when you visited, for the first time, the communist prisons where many students, intellectuals, politicians, women and aristocrats died tortured. Can you elaborate on your visit to the communist prisons – what you felt and how that affected you?
In 2011, I participated in a Summer School at Ramnicu Sarat, where the communist Silence Prison was at the time (now this prison can't be visited anymore as the walls are collapsing). In the Silence Prison nobody was allowed to talk for years. The inmates would stay in a dark cell with no heating in winter and no glass at the windows. Through the grating windows the snow, the rain and the wind could go in. There was water on the floor, and the inmates were expected to stay still the entire day. Those who would try to sit, even for couple of minutes on the bed, would be tortured as a punishment for not respecting the rules. Imagine that those horrors presented by a survivor. It's hard to explain what I felt. I couldn't even sleep for an entire week during the summer school. It was traumatizing. The summer school was organized by the Institute of the Communist Crimes in Romania and through them I have found, for the first time, about the Pitesti Experiment (because in more than 25 years of education in Romania, I had no information about this part of the history). At that time, I was a student at Birmingham University and immediately after watching the Demasking documentary film about the Re-education Phenomenon, I wanted to know if there is any feature film about the Pitesti Experiment. It was important for people to know what happened with the best students in Romania between 1948-1952. A movie would reach the wider audience easier than a book, I though. A movie would be an opportunity for the new generation to find out more about the true, unfabricated past. Alas, there was no film about The Pitesti Experiment.
You embarked on this film's journey with 'just an idea' – no funds, no crew, no cast. So many independent filmmakers biggest hurdle in making their story a reality is funding. Take us through how you obtained funding for this film – especially being a period piece.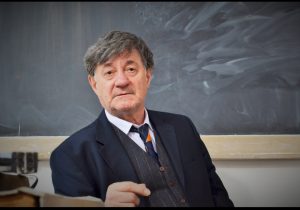 For me, it was so important to bring this story to life. I put my entire savings first – money used for the development and the pre-production stage. Then I have applied for funds everywhere I knew. I spent months sending thousands of e-mails, filling in application forms or knocking to people's doors. I have got no support so far. Then I was thinking that a crowdfunding platform would help me get the needed funds. I have started with IndieGoGo campaign, continued with various national Romanian platforms, we have now a GoFundMe campaign. Crowdfunding is not a joke. You (meaning your team) have to work 24 hours from 24 hours for it and most importantly, 80% from the donations come usually from friends and family. If you have no good network, no wealthy connections willing to help, or not too many people who can advertise and share your campaign, then it is extremely hard to raise any funds. Furthermore, all members of the project shall contribute to the campaign in their ways. If the actors and the crew members choose to not involve in the campaign, hoping that only one person will do the job, then you will have a failed campaign. Crowdfunding is about crowd.
How long has your journey been from your "idea" to make this film – till today?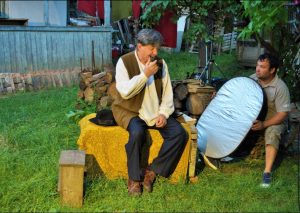 The idea came in 2011, and throughout my journey, the story was constantly growing. I took a tremendous amount of influence from similarly realistic international films, that understand how to portray the horrors that come from historic atrocities. Films like The Stanford Prison Experiment (2015), Come and See (1985), Homeland (2011-2020) and Schindler's List (1993), helped influence how I presented the tone of the film, showing the brutal history behind The Pitesti Experiments. I also watched numerous Polish and Romanian documentaries about communism, so that I could be as true to the history as possible. Dozens of books, testimonies from the survivors, films and archive documents – all contributed to build the story of this feature film.
Did you scout your own locations and how hard was it finding locations to reflect the time period?
For the scouting location stage, I had some places in mind and I checked them out alone first. I then went back with some members of my team (Marius Donici, the Director of Photography, Cristian Prisecaru, the Stunt Coordinator, Sonia Teodoriu, the Production Assistant) and we explored other locations that my colleagues had in mind too. We were searching for authentic locations only, buildings from that period of time and the actual prisons. It took us several weeks to find the needed locations and to convince the owners or the representatives of the places to allow us film there. We were also shooting in houses from the 1940's, museums, old schools, churches and that was a very beautiful part of filming because those houses or establishments were mesmerizing!
How did you go about casting the film? Two stand out performances are by Ion Caramitru and Sergiu Moraru.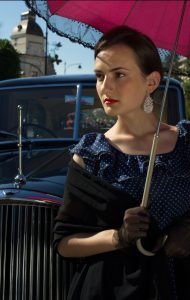 We were organizing 4 castings in different parts of Romania. I sent a press release to the Romanian media as well published announcement on social media about the casting invitation. I was interested in casting actors with different accents so they would be able to interpret the role with more authenticity. The actors were given a small improvisation exercise, a camera test, and a role play from the script. We were recording everything and then analysed the videos with my team and chose the right actors for the right role. They all (327 actors) got an email from me stating if they were selected or not and thanks for the effort. Many of the actors, including the lead, were students in the final year and this was their first feature film experience. Many of the other actors were well established stage actors in different theatres in Romania, some were my drama teachers from high school and of course having Ion Caramitru was an honour for me and for us all. We all knew him from his films and now, to have the chance to have him with us on set was a huge unforgettable moment. For those who want to know more, Ion Caramitru is a live legend in Romania, known for Mission: Impossible (1996), Charlie Countryman (2013), Jute City (1991) and another 100 films more.
How did you work with your actors? Was there a rehearsal process?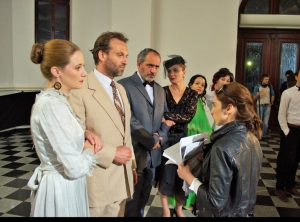 I held rehearsal days but since they were not paid, not too many actors showed up, they usually had other projects going on at that time or worked in the theatres. My colleague, Cristian Prisecaru, the stunt coordinator, arranged several rehearsals too, but again, not too many actors showed up. It was ok though because we got many takes until the scene was satisfying for the director, for the DOP, and for the stunt coordinator.
Was there any kind of mental or emotional shut down by the actors in recreating such dark material and if so, how did they – and you – deal with that?
My actors were really interested in the topic and very passionate about revealing this hidden part of the history. They put lots of effort, more than 17 hours per day of work, day-by-day, every day, for around two months with no break. They bared their body and soul and they did everything they could to make this project happen. Even though the subject was sad, their passion and their professionalism kept them strong and capable to work the best they could. The emotional shoot was in the moment when the electrical generator was stolen, and we could not film anymore. I will always remember their faces…their eyes… Another emotional moment was when we remained without food for the next days of shooting …or when we got the props destroyed by some random people during the time when we were missing from the filming set.
How did you work with your cinematographer in preproduction and while shooting the film?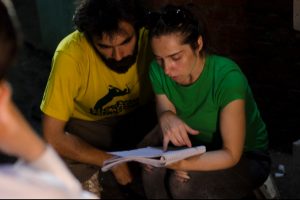 Marius Donici, the DOP of the film was very close to the project from the beginning. We were the first people to read the early drafts of the script and give feedback to our script writer, Lexa Axinte. We would then scout locations, make our shooting plan, and storyboards. Marius prepared everything so professionally. The fact that we were in a huge hurry filming seven scenes per day made it difficult to reflect all our storyboards plans and I reckon some of his amazingly good ideas couldn't be made because of the time limit. Another inconvenience was that each of us were working with so many hats. The DOP was an electrician, gaffer, and a driver – so he made a titanic effort to take care of all these things. I am grateful that this worked out and we are now in the final stage of the production, which is the post-production.
What was your biggest obstacle in shooting this film?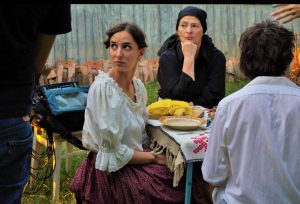 Definitely lack of funds. It's an issue that lots of filmmakers experience and often have to work around. I really wanted to pay my cast and crew and I really do appreciate their hard work and passion. It's part of why I'm still raising money, not just to complete the film, but also so I can pay them for their hard work. I'm still confident because I believe that limitations and adversity can spark creativity and require innovation in how I make this film. Innovation is the key. After shooting the film, was the journey of making it what you envisioned? Well, the project became much bigger, more expensive, and more visible, than I was expected – the film is yet to be released and has been covered more than 400 national and international media outlets.
Where are you currently with the film? Do you have a release date?
We are in post-production stage, raising funds for the music composing, colour grading, sound design, translations, subtitles, enveloping, the honorary for the footage archive, plus paying our cast and crew. We have a GofundMe campaign, which is more challenging now because of the corona virus. I'm always posting announcements for the campaign in various groups, sending invitations to my connections, basically begging for donations…it's challenging without a marketing team but I'm dedicated to finishing this film: https://www.gofundme.com/f/HelpVictoriaFinishTheMovie
I would have loved to have had the movie finished by the end of this summer. But right now with the virus, we of course can't make any promises. That's not going to stop me from meeting my goal.
What do you hope audience members take away from this story when the film is released?
As I mentioned before, I find it important for audiences to learn from the past.
Do you have future projects lined up?
YES. I am in the development with the reproduction of Tararira, the lost movie of Benjamin Fondane. In 1936, Fondane directed Tararira, a masterpiece, according to Gloria Alcorta's critics. The film was a musical produced in Buenos Aires and lost immediately after the first private screenings. We have information about the music compositions, we have testimonies from the actors and crew, we have access to journalists and critics who saw the original film, we have 12 pages from the script, and we have 60 pictures from the making of.
Each Director's body of work tells something personal about them. What do you hope your body of work will say about you?
Live and let live. Be free. Love and let be loved. Life is short, be of use! To live truly, education is the key and love is the secret.
You use a poignant quote in the film when the nephew asks the uncle about good vs. evil. "Which one wins?" the nephew asks. "The one you feed" replies the Uncle. It ties the film – and the world we live in – together.
Yes, I think it's true that we all have the capacity of good and evil. When society is under pressure, that pressure can bring out the type of person we truly are. I think that's a core theme of the film.