A Bitter Murmur is a horrifying paranormal short that introduces us to Sam (Cailyn Rice), a lonely woman who is watched over by the ghost of an old dead woman (Matanya Bar Shalom) from her past.
The ghost has traveled with her, seldom seen, an unnerving aspect of this haunting. Is Sam's ghost all in her mind – or does it actually exist? Neither possibility soothes. We see Sam between fitful slumbers and her therapist (Mary Carrig) appointments. A distant husband, Anthony, is referenced. They work opposite shifts – but unseen. The therapist feeds us clues through her questioning: Sam is new to this city, currently not working, her family is far away, and she doesn't feel ready to embrace life. Pointed lingering shots of Sam fidgeting with her engagement ring suggest Anthony's presence is uneasy and difficult to discuss, though she refers to him as amazing when asked about their relationship.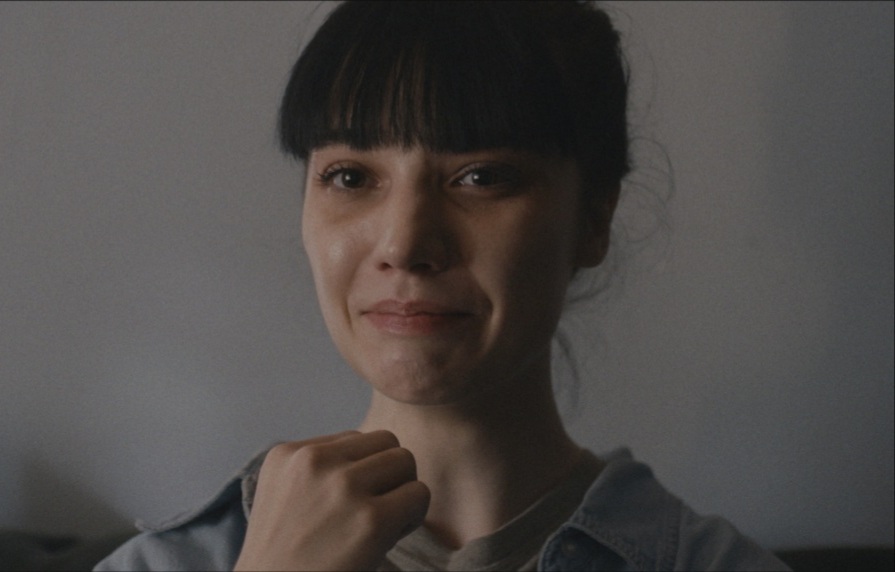 Rice delivers an exceptional performance as Sam, the lonely protagonist. Deeply present and nuanced in delivery, viewers will find themselves inhabiting her terror – moment by moment. Women round out the cast with strong, steady performances. Carriq gives a cold, but focused, performance as the therapist. She needles Sam with questions that only draw out biography but doesn't give Sam the tools for actual change or healing.
Writer and director Manuel Baeza rachets up dread with precise choices from script to frame: a shrill score (Caige Crampshee), a quiet slumber disrupted by a pull from unseen hands, and bare feet carefully treading tile. This film is not conceptually groundbreaking – but it doesn't matter. Baeza's crafted a short where lingering questions satisfy as deeply as what is revealed. Viewers can bring their fears and anxieties aboard filling in the gaps in Sam's history and future.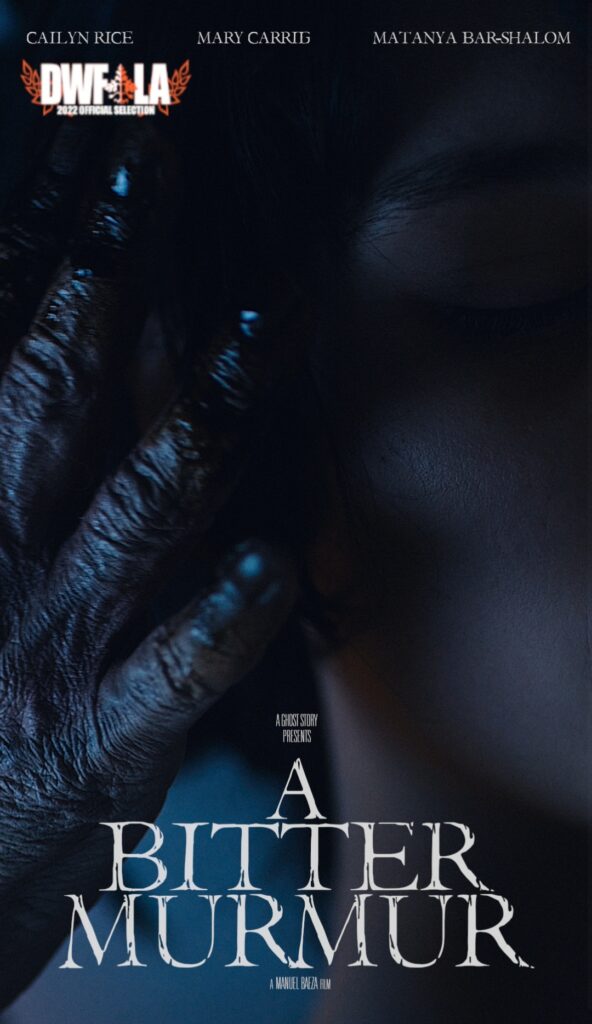 The high production level work across the board enhances the capabilities of the small story with pulsing dread. Makeup work by Nikki Martinez and Alondra Shields expands the believability of a supernatural atmosphere with a horrifying artistic expression of grave decay and brown ooze. The lighting tousles between a chilly twilight and bright sunlight in arresting work by colorist and cinematographer Dominic Lopez. The light of day, dim or blinding, cannot protect Sam.
Fans of '70s thrillers will appreciate the stylish and minimalist storytelling. While the seventies explored the post-war dissolution of the family, this short film visits a child of those times – Sam. Now grown, we see how her broken home life swiftly encouraged emotional baggage for the long haul.
If paranormal, supernatural, and hauntings are triggers of delight, do not miss this beautifully executed short. Prepare to be unnerved.