Why wait for evolution to engineer a better breed of human? Max Pearce asks us just that question in a film called Apotheosis. Taking place at the peak of civilization, the film's title tells us what's wrong with living a longer, healthier and productive life. A question we may someday have to answer. So Pearce's 19 minute short wants to make sure we understand that no amount of engineering can take into account all the human elements that cannot be measured.
On the other hand, an orbiting space station in the opening shot makes a pretty good case for the engineered, and the visual effects department (Shaman Marya and Josh Steede) definitely projects the possibilities in the revolving imagery.
The college campus setting of most of the events, and the John Burroughs Hanle cinematography, has a very forward looking feel too. But touching down, the news reports pockets of resistance that would prefer to return to the natural order of things and not just from an evolutionary standpoint. The rich can design their children and the engineered have established a system of privilege – whether it's earned or not.
Selene (Rene Leech) and her mother (Jane Casserly) are among those that bear the brunt. They live in a darkened and dysfunctional apartment and their meager existence just got worse. "The whole team got replaced by a single engineer," Mom laments.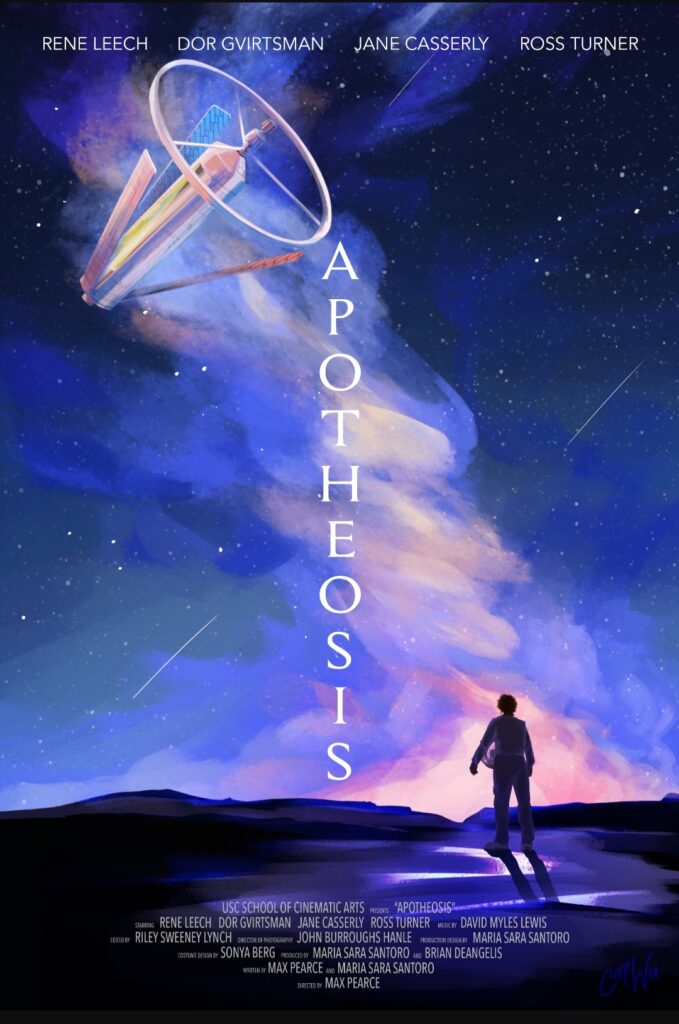 The mother and daughter still manage to keep their heads up, and a chemistry arises between the actors over a shared love of science. But it's Selene who resolves to take it to the next level. The young aerospace engineering student dreams of a landing spot on the first habitable space colony, and Leech's obstinate performance shows a determination that refuses to be stopped by the supposed impediments.
The dividing line hasn't changed everything, though. Her friendship with the engineered Fabrizio (Dor Gvirtsman) is about as normal as could be, and jokingly playing off their differences in the training pool, conveys a real connection. In addition, his elevated position doesn't stop him from conveying empathy for the downturn in Selene's home life and a genuine dismay for the unfairness of the system.
Still he is the son of Rusk (Ross Turner), the man who owns the space station, and Gvirtsman's portrayal shows the initial stages of a duality. He's encouraging about Selene's lofty application but seems to be a man of his time.
In other words, he can't help expressing caution in terms of her chances and the likely disappointment. Nonetheless, he's proud of Selene when she matches his cognitive test score – and in a minute less time.
Unfortunately, Selene falls just short on the physical test and the David Myles Lewis score helps double down the doom she feels. Fabrizio's attempt to comfort doesn't help either. "You're still a testament to naturals everywhere," he alludes to an ugly past.
A credit to her race, so to speak, Selene isn't interested in the consolation prize or a passive bigotry that he doesn't realize is offensive. But his core beliefs and arrogance eventually means that Fabrizio must face himself, and once in the know, his true nature fully emerges. A look we know all too well – especially when dominant culture has something to lose.
So maybe that's the message. We just have to find the gene for such human pettiness, and by then, all systems could be go for reaching the full potential of the human race. But the odds are we should probably pay heed to Apotheosis. Because hitting our peak means there's only one way to go. And unless Selene's message is heard, decline is this society's destiny.