After a lengthy absence from the literary scene, veteran writer and poet Mark Anthony Thomas presents Folded Whispers, a documentary short film, giving us a glimpse inside his first performance in 15 years at Pittsburgh's historic Kelly Strayhorn Theater. Performing a collection of new poems that explore a range of issues that include identity, urbanism, loss, race, and the pandemic, Thomas provides a fresh peek inside his frantic and circulatory mind.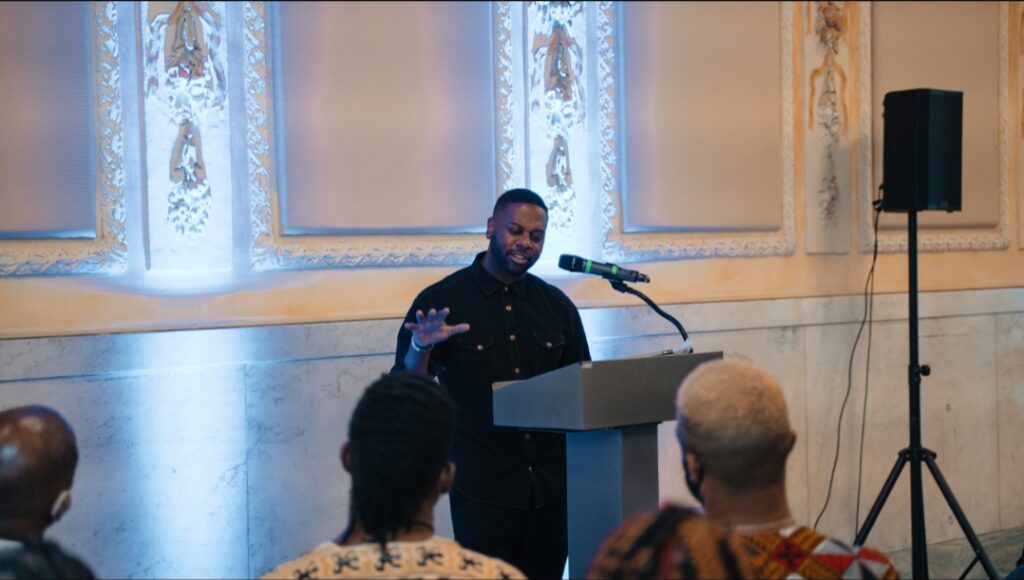 In his early literary career Thomas built his reputation authoring two well received books, "As I Look" and "The Poetic Repercussion". In conjunction, he served as publisher at a popular investigative journalism magazine City Limits. With the literary world at his fingertips he inexplicably disappeared, no longer a creative voice. Writing his first line as a teenager, poetry acted as a "Rocketship", helping him to escape a life of poverty, carving a path out of his humble beginnings. Arts and creativity played a huge role in building his character, without it there is no doubt his life would be different. Folded Whispers is a wonderful collection of his latest work, an all you can eat buffet of new material. A deep dive into his mind on topics such as inequality, love, and hope. Thomas breaks down each poem with a moving performance for each, his manipulative use of language hypnotizing the crowd. His truth, locked away for too long, finally ready to be shouted aloud.
To unload one's inner thoughts and feelings is something that requires great courage and strength, especially when your voice is heard by so many. There's been a gap in the literary world that his fans will be glad to see filled once again. Although this poetic short (produced by the Pittsburgh-based creative firm Built Different) doesn't break any filmmaking boundaries, it's well shot and edited, not getting in the way of Thomas's poetic performance but complimenting it. It's the frantic inner workings of Thomas's mind that takes center stage. His stage presence and emotionally transparent recital makes Thomas feel close and intimate. . . almost like you're in the audience and close enough to hear the whispers.