Directed by Marc Danbury, The 31st Amendment looks and feels like the indie answer to The Hunger Games, with a hint of The Purge franchise creeping in on its fringes. Dystopian battle royales are nothing new in the realm of filmmaking, but Danbury and the team over at New Boy Films make the most of their resources in this nifty, character-driven thriller.
The table is set with a simple premise. The US Administration is seeking to solve the aging population problem with a questionable thinning procedure known as the Economic Impact Easing Program. Exactly 150 citizens, aged 55 and up, are dropped into an arena where there can be only one survivor, who receives a number of benefits. The government creating controversial policies is nothing new in this genre, and at this point it's become almost futile to dispute the logic behind each of these narratives. The 31st Amendment doesn't really attempt to explore its finer details beyond a simple news coverage, but accomplishes most of its success by paying attention to its character-driven elements.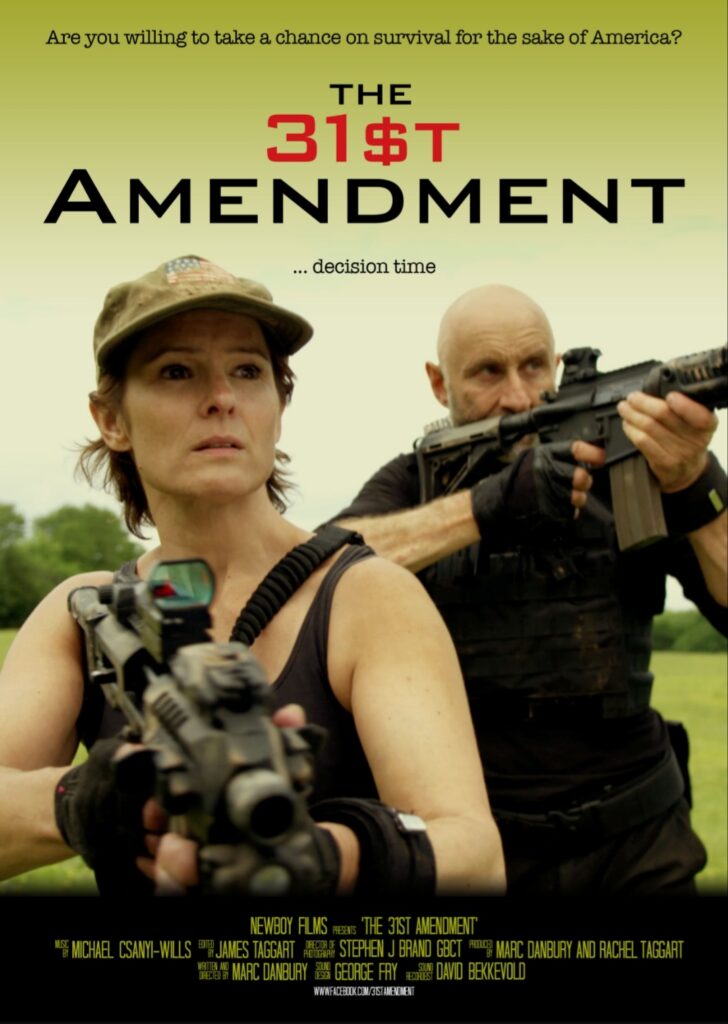 Rachel Taggart stars as Janelle Sterling, a mother working to make ends meet when she is suddenly drafted into the Easing Program. It's during the relentless battle that she encounters the injured Vince (Marc Danbury). Despite the odds, the two form an alliance, hoping to somehow survive the deadly event. The film doesn't do a particularly sound job of establishing how any of its characters are proficient in weapon handling or fighting, but it does use its action scenes to great effect. The gunplay has weight to it, and some cool VFX (James Taggart) helps to make the more visceral sequences stand out. From drone shots to car stunts to helicopters and an imposing wall of toxic smoke, there is always something going on to draw in the viewer's attention.
Taggart and Danbury work well together on screen, which helps get across the film's most obvious but most important message. Family comes first for both of them, and it's a common ground they can agree upon. But while the story moves along at a brisk pace, the stakes don't feel as high as they should be. There is an attempt at creating a pseudo-villain in the midst of chaos: a gas-masked killer who methodically picks off the contestants. And while that alone adds an intriguing layer of danger, the man behind the mask is never given an identity of their own.
With a pair of well-matched leads and a creative team well in control of their projects' many moving parts, The 31st Amendment makes the most of its familiar premise with stylish thrills and an emphasis on humanity.