A sentimental throwback to classic breakup movies, Trust in Love finds a now-over-the hill musician on the ropes. Though his hugely successful run in the 80's spurred him on to find a creative spark once more, his family life remains in shambles, with the imminent threat of divorce looming large. Mick Davis's film is everything you'd expect from this cheesy, trope-heavy genre of romantic filmmaking, but it's hard to deny its entertainment value.
Jimi Petulla plays Mickey Ferrara, the man who, on the surface, seems to have it all figured out. Well, maybe that was forty years ago. Things don't look too peachy for poor Mickey. His job as a producer is nothing like it used to be, with his clientele reduced to an uninspired rock band bickering in his recording studio. It all goes downhill during a romantic date with his wife Sofia (Natasha Wilson), who asks for a divorce in front of their entire family, their kids Cody (Logan Arditty) and Jennifer (Sydney Bullock) included. With so many hurdles in his way, Mickey must find a way to repair the bond he once had with his kids and wife, a task easier said than done.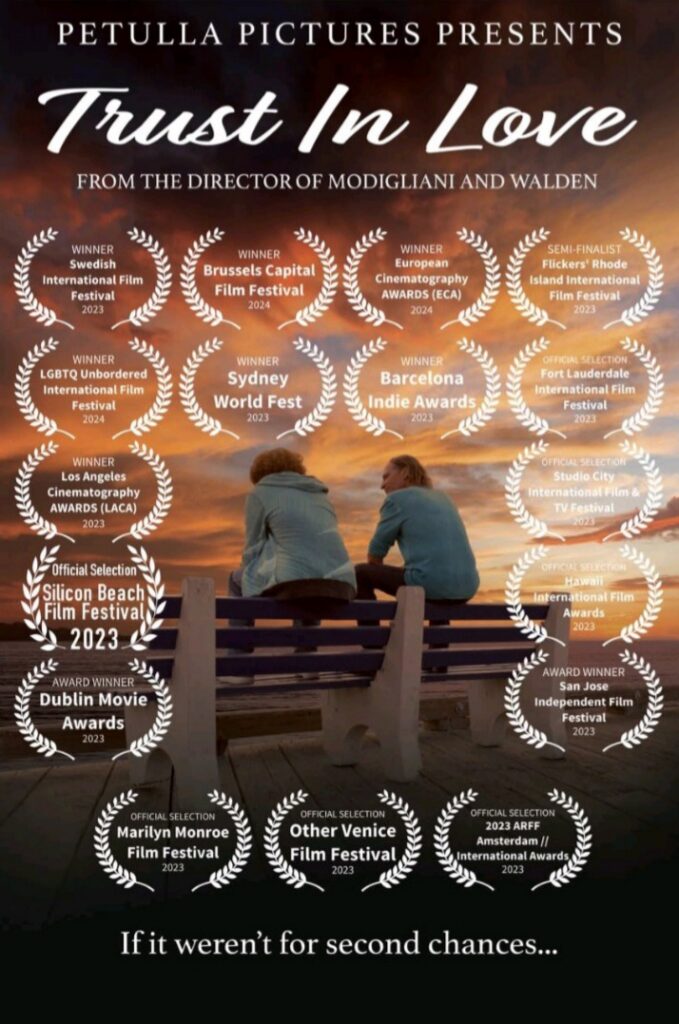 At its core, the movie is a heartfelt ode to one's family, so it comes as no surprise that its strongest scenes focus on exactly that. Petulla and Arditty are excellent together as father and son, but the entire cast is capable. Arditty and Bullock in particular, who are teenagers with their own host of problems and questions about life, the younger audience will surely appreciate their characters being included and so well-written. Veteran actor Eric Roberts also makes a welcome appearance, this being one of his better cameos in indie movies.
While an event of this magnitude is no laughing matter, Trust in Love shines by acknowledging the severity of the separation and guiding Mickey on his journey of self-exploration and healing. Petulla's performance aids in this greatly. Mickey is down on his luck, and though he tries his best, he cannot quite seem to shrug his old self off even after so many decades. And in doing so, he caused a rift to form between himself and his loved ones. There's a vulnerability in this scenario, and Petulla pulls it off. Moreover, his work as a screenwriter is also commendable. Though the screenplay veers into some dated and rather melodramatic territories on occasion, there's a unique sense of humor in Petulla's script that ultimately shines through.
Speaking of dating, the film often looks and feels like a traditional sitcom or a stage play. The flat framing and minimal blocking might not be to everyone's taste, but that doesn't mean its technical elements are lacking. In fact, director of photography Viorel Sergovici does a fine job conveying Jimi's emotional journey through his visuals. Daniel Coe and Jack Douglas also deserve praise for providing a great soundtrack.
There's something for everyone in Trust In Love. For those who can appreciate a good-natured romantic comedy that mimics the classics, this one should more than do the trick.