Marriage is hard. These law-bound relationships are filled with the many ups and downs of a typical romance, but face the added pressure of "keeping things interesting" (a task that many long-term couples are all-too-familiar with). While most couples tend to try new restaurants or branch out of their comfort zone by traveling somewhere new, George (Steve Blackwood, Days of Our Lives, Machine Gun Preacher) and Helen (Sandy Bainum, 42nd Street/Broadway) decide to take things to a new and outlandish level in Blackwood's 14-minute short film, Stuck.
The film takes place in a matter of frantic minutes as Helen and George prepare to host a dinner party for a few of his business clients. The evening's unfortunate events unravel within the first 60 seconds of the film as a young and hyperactive delivery boy named Finn (Max Schochet) arrives on their doorstep, only a half hour before the guests arrive, to deliver a bondage sex toy contraption fittingly titled as the "Love Trap."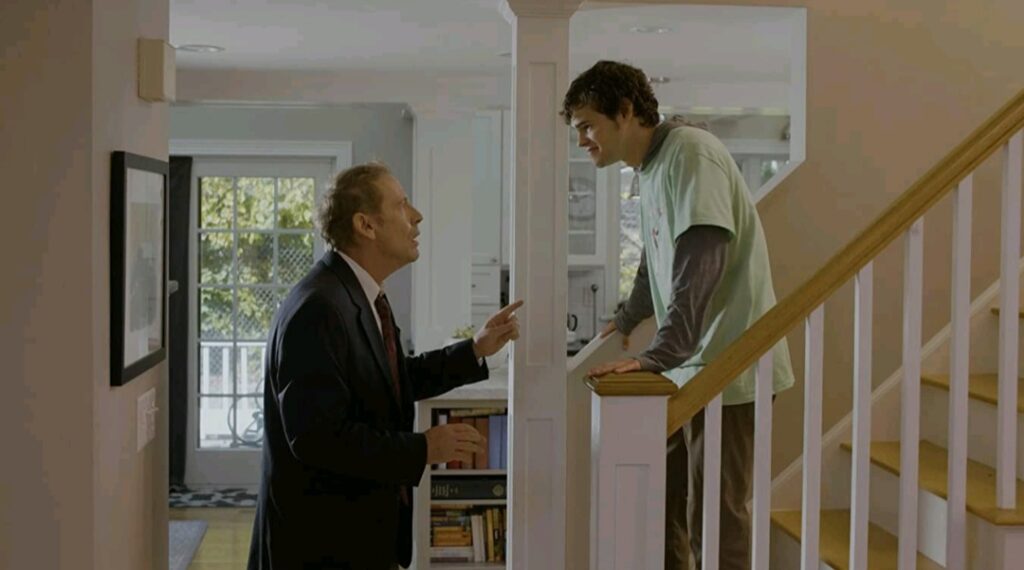 As the film's artistic title sequence concludes, we are met with the frantic and concerned couple. Helen and George engage in a heated discussion that lays out the turn of events that happened after Finn's arrival: in a flashback sequence, we watch as Finn shares the many and unwanted details of his own sex life, ultimately convincing George that the Love Trap's assembly would be best left in the hands of a professional. He assures George that this task would be complete before any guests arrive, but as you may have guessed, things didn't go as planned.
As George and Helen converse, we become aware of what had truly occurred in the interim: while Finn was upstairs with the equipment, he worked up an appetite and snacked on a few of Helen's "pain-relieving" candies, causing him to pass out while entangled in the ropes of the sex toy contraption.
In present time, the couple work quickly to figure out a solution to their problem; with the fear of receiving ridicule and judgement from their guests, they quickly execute their plan of action to untangle Finn and clear the scene of any evidence. In doing so, they discover what their true entanglements are as a couple – physically, relationally, and emotionally – ultimately revealing that Finn isn't the only one feeling stuck.
The film's pace is easy and engaging, due in large part to its perfectly matched score (created by Darren Morze) and tasteful edits (done by Chris Esper). With its jazzy and upbeat demeanor, the comedic elements of the narrative are brought to life through the soundtrack, creating a space for a lighthearted and easy-going viewing experience.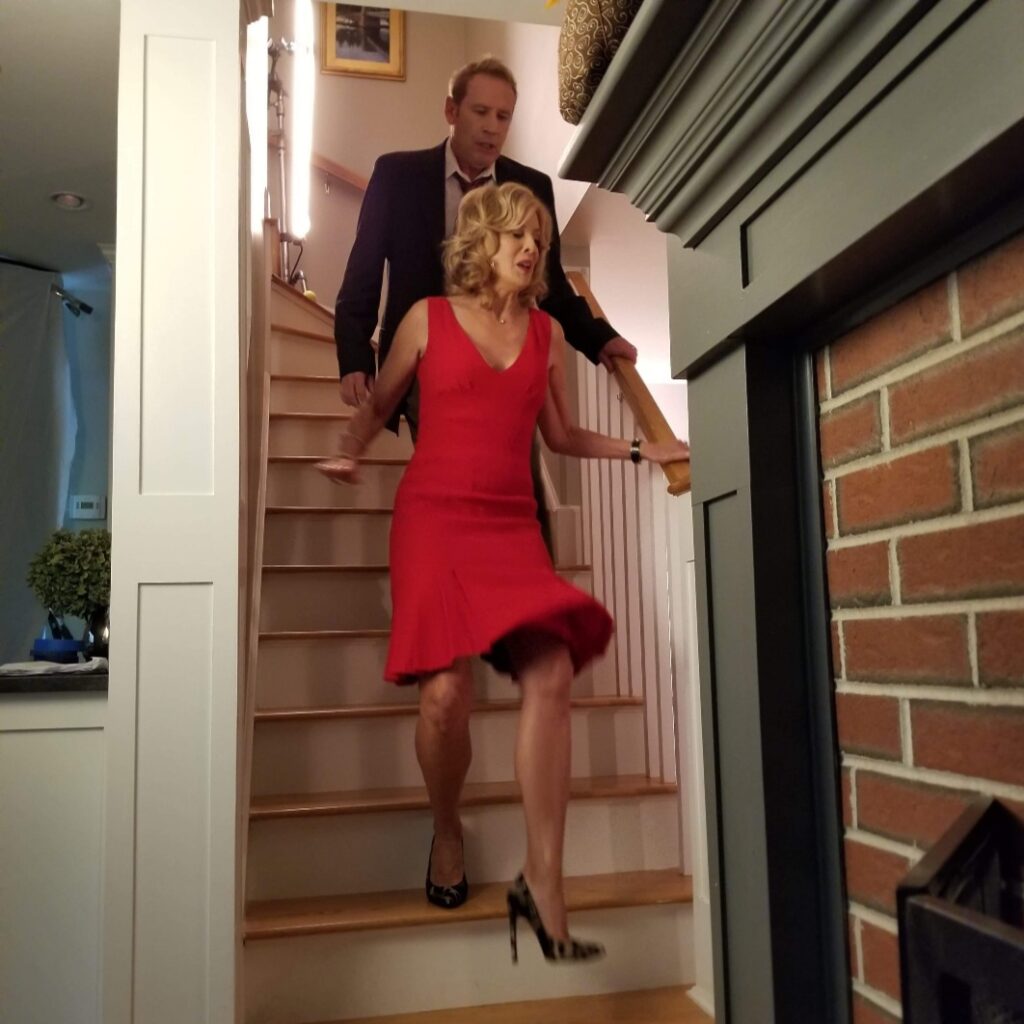 The performances of Blackwood and Bainum are enjoyable as well; Blackwood's familiar allure presents itself in a new light, and the stressed-yet-comical bickering between the two actors resembles a fun and realistic look at a marriage, presenting viewers with a window to view their own arguments and emotions from afar.
Yet, all great comedies are renowned for their underlying relatable message – a message that usually tugs at the heartstrings in a warm and entertaining tone while remaining subdued enough amidst the absurdity of circumstance. While Stuck definitely presents viewers with a fun narrative, its messaging could have dived a little deeper in order to amplify the realities of a couple, as opposed to glazing over a few of the mentioned topics that were sprinkled throughout the piece.
Still, the film is amusing and enjoyable, and Blackwood's efforts as writer, director, producer and performer have not gone unnoticed: Stuck is undoubtedly a passion-driven work that has been developed by a team of devoted and zestful creatives willing to explore the many real (and rarely imagined) circumstances of married life.