Chicks – a girly, cotton-candy colored slumber party that quickly unravels when a shy teen becomes the center of her friends' bizarre nighttime ritual. This 13 minute short film by Geena Hernandez lets us feel the flighty amusement of a girls night in. But the film gives way to something much more serious and devolves into a pretty strong cautionary tale. This, especially if you're a teenage girl who thinks that being a chick means you need to be in the hen house to get a life.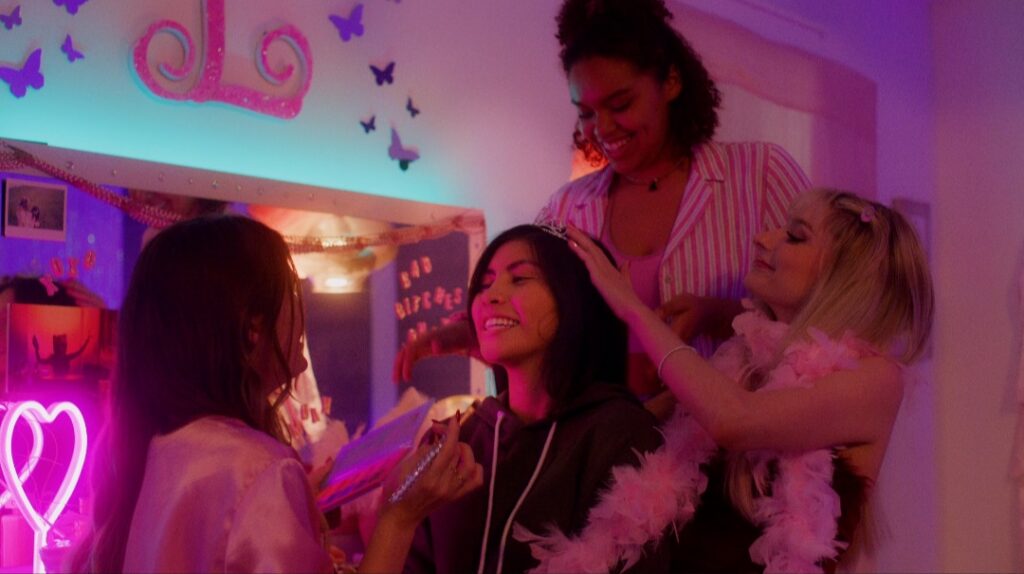 Polly (Nicole Marquez-Davis) is a nice girl, and her interaction with her overprotective mom provides the first clue. "Kiss your mommy bye and be good," Mom (Aurora Torres-Hansen) implores upon drop-off, and of course, Polly offers no resistance.
Aside from having overbearing mother down to a science, Torres-Hansen conveys that she is a first generation American. So like many immigrants, Mom is a bit out of touch with the mainstream, and both traits allow Marquez-Davis the opportunity to exude the good girl that she is. The actress emotes an old school respect, while doing all she can to mask the fact that her character accepts her domestic fate.
Then off on her adventure, she looks cute and innocent with her pillow and modest sweatpants, and if that's not enough of a cue, we quickly see how far Polly is from home. Standing outside the extremely upscale home, Polly is left wondering if she's bit off more than she can chew. As such, Marquez-Davis' slowed walk, exasperated grimace and shrugging shoulders scream out all the trepidation inside of her.
The door opens, and it doesn't get any easier when Lizzie (Jena Brooks) is on the other side of the threshold. Brooks dresses Polly down with a judgmental leer that could have laid down the very tracks made to separate the right from the wrong side. Her high end attire and exposed midsection also lets Polly know that she's a cut above on both the nurture and nature side.
Run Polly Run – or not. Joining Lizzie, Kelly (Maddie Moore) and Jazz (Lilliana Simms) go into full on chick mode. Screams, hugs, lipstick and smiles, Polly completely recalibrates and has every reason to believe that she belongs.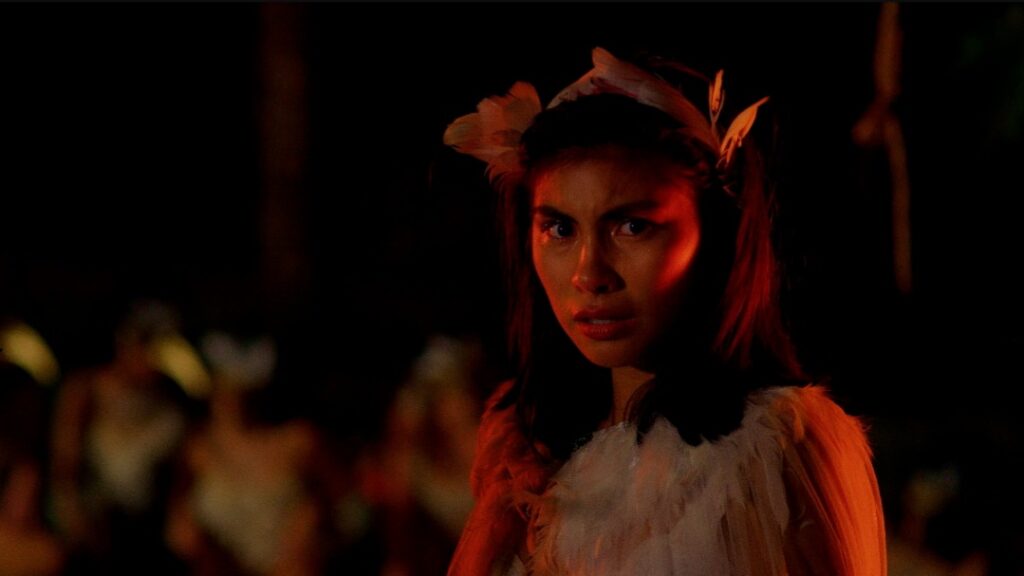 A step inside, and the Chris Violette cinematography shows us a perfectly manicured interior with modern art, expansive white walls and a geometric layout that probably means to separate the in crowd from the out. But now, Polly feels like she's one of them.
The trap has been set. "Do you drink Polly?" Lizzie lays down the gauntlet.
She does not but the trio is so nice, so silly and so sweet – even Mom would wonder what could go wrong. Polly obviously can't resist. "How can I say no to you guys," she relents, and you're right there with her.
The party now given permission to kick off, the mood gets the same consideration. Like a club where only happening girls are invited, the Jon Violette instrumental music fits right in, and so does the darkened room with the colored lights lining the walls.
Of course, for our purposes, the chicks must come home to roost. The high life gives way to the bizarre nighttime ritual and reveals that these chicks are knee deep in a chicken cult. A little odd as cults go, but the framing sets us up well enough to sign on.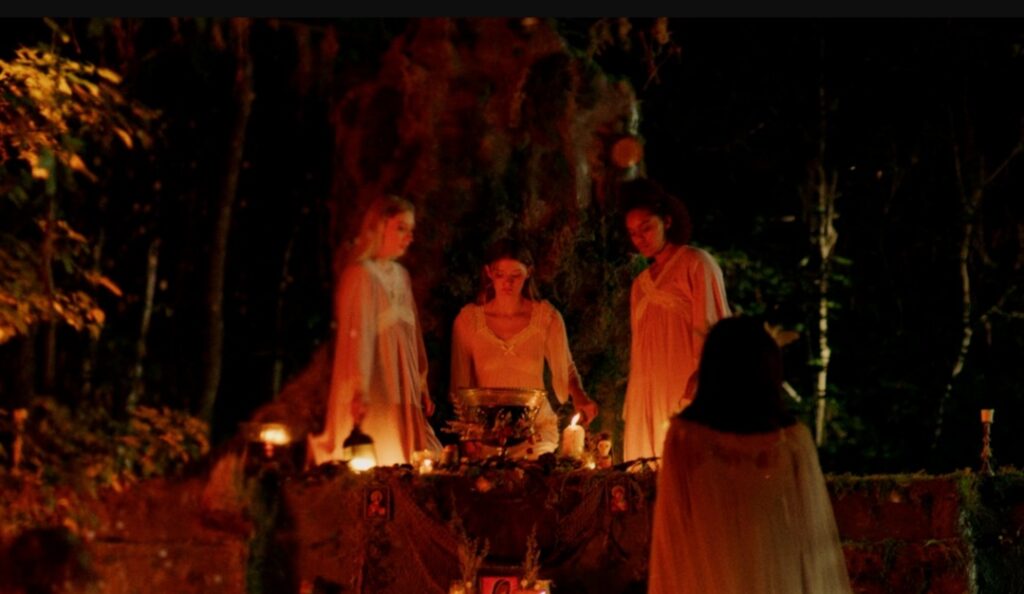 An accelerated cluck to get us in gear, and shifting the scenery outdoors, a full moon with moving cloud cover transitions the mood. The girls are not so silly anymore, and their empty stares have submission written all over their faces.
Add in a deafening drumbeat, fire and a much larger gaggle of feathered up girls, we got a real dose of mass psychosis. A sacrificial lamb on the agenda, Polly has already been designated as the object of everyone's attention. But Polly's fate is less important than what she represents for girls in the real world.
Despite all they have in looks, material wealth and popularity, the emptiness in their souls still requires a victim, and this nice girl is primed to be plucked.
So if you're a Polly don't fall for the facade – and run girl run.