If you're lonely – there's good news. You no longer have to spend every night on the couch by yourself. The secret to a rich, fuller life in the company of others is now as easy as a free instructional video. Frederick Von Scholar's How-to Series has taken on 'How to Make Friends', and in only a few minutes, the party can start. Well, not exactly, but the intentionally out of touch irony by writer/director Jim Allison is a definite pick me up and will get you laughing – even if you are all alone.
The four and a half minute short film first takes us back to the heyday of self-help. The sounds of the old style film projector reminds of the gullibility society had for easy fixes, and the same goes for the out-of-the-era animation by Allison. Far from the scores of sketches to simulate complex motion – a drawing appears; then maybe another sketch or two is about all the movement we get. Thus, the blatant unsophistication shows how eager we were to accept whatever help these so-called experts provided.
The spot on narration of Jason McCoy and Juan Carlos Hernandez piles on too. Non-threatening and self assured at the same time, people must have been way too accepting, and adding in the nondescript elevator music by Martinet A. Sunshi has us wondering how America made it out of the 70's.
As for the main character on our journey, his noninvasive appearance makes him very relatable and amenable to intervention. Blonde hair, a pearly white smile and attire that must have been bought on the cheap from Woolworth's, we, in an odd way, see ourselves. He deserves to have friends – and the same goes for us.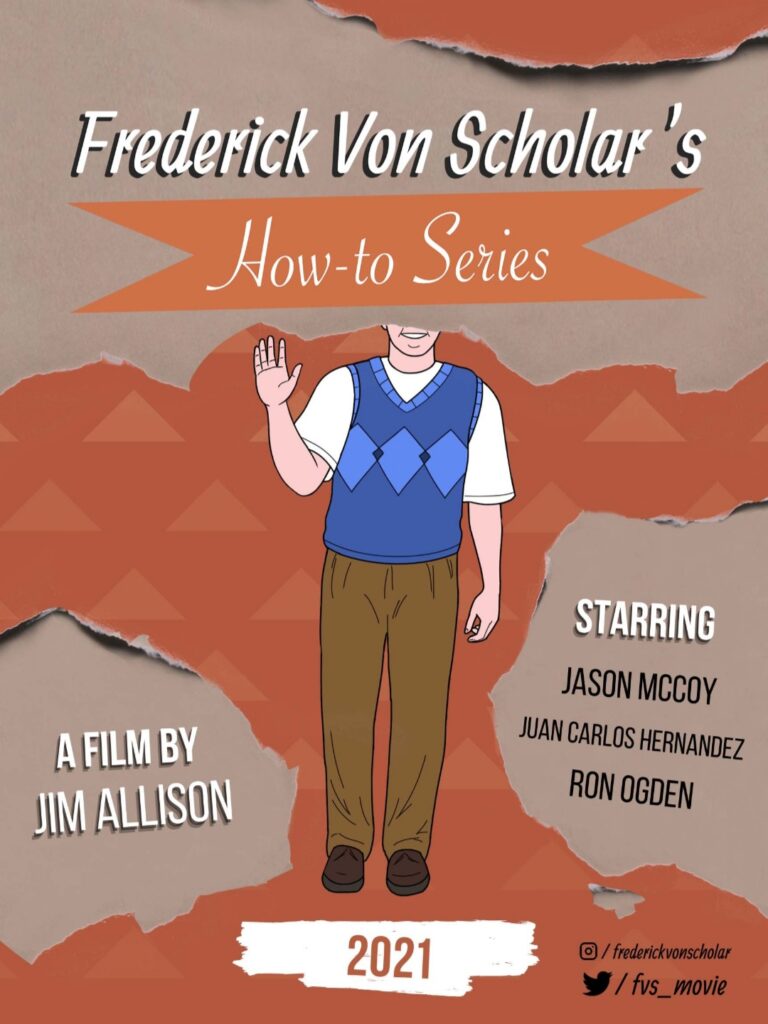 Still, we get the irony, but the assuring presentation also keeps us open to the possibility of solving our own isolation. And away we go, 'Make Yourself Available' starts the actual self-improvement part of the program.
Who says common sense can't be part of self help, but buckle up, here we go. A prostitute bending into the window of an old man John, and the misdirection come across clearly in McCoy's cautioning.
'Not too available', and the simple animation reinforces the dry deadpan. One added image has the prostitute/friend seeker turning to the camera, and her surprised look has us almost believing that Frederick's help can actually work.
Remaining on point, there's no change in the narrator's knowing tone, and despite the lunacy, the discourse presses on as though it is real. Playing along, we can't help feeling less lonely, and as a result, we are coaxed to the possibilities.
So we continue. If you see an opportunity to meet people, take it, if someone invites you to an event, go for it, and always be in the present are among the normal common sense tips provided. That said, we don't miss a beat when the scene goes completely off the rails.
However, from our contemporary sophistication, we get the joke, and even leaving the obvious irony out, how is it that our elders were ever persuaded by such silly presentations.
Of course in our honed sense of what a scam is, getting taken like this could not happen to us. But have you noticed Scientology, Dr. Phil and all the books and videos that continue to sell self-help. The overwhelming prevalence doesn't even take into account all those who are fooled by social media stories that have no basis in reality.
So Frederick Von Scholar, we eagerly await your 2060 version of 'How to Make Friends' and those people can question us – and get a good laugh too.