Gravity's distant little cousin, Jonathan Brooks space-set short film Solus does a lot with a little, functioning as an extended teaser for an epic, hard sci-fi feature. Atmospheric, beautiful, and frightening, it inspires a genuine sense of awe in less than 15 minutes. How the filmmaker and his crew achieved such a stunning vision on an alleged £5,000 remains a mystery as tantalizing as the central one in the film.
Two hundred miles above the Earth, astronaut Matthew Connor (Henry Douthwaite) floats all by his lonesome in the International Space Station. "Going faster than a speeding bullet and perpetually falling", Matthew is experiencing a complete loss of communication. To make matters worse, the station is weeks away from burning up in the Earth's atmosphere, and he has only a month's supply of food.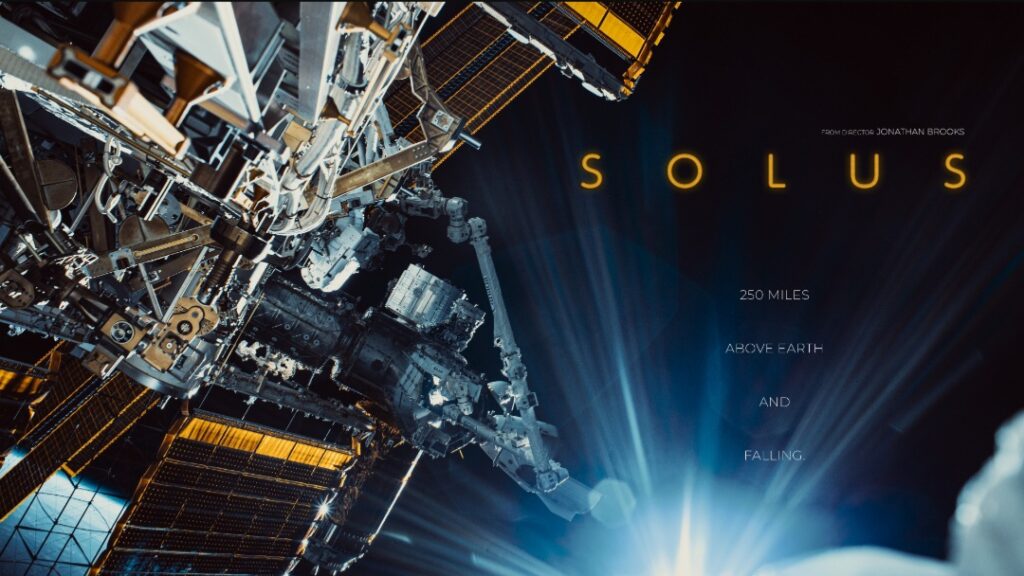 Matthew records video logs to make "the lack of communication more bearable". Good thing the astronaut is "happy with [his] own company". He's trying to stay positive, working out and enjoying our planet's splendor. But then there's the persistent chiming. "Nothing on this space station should sound like this," he notes. When he has to reconnect a crucial part outside of the station, Matthew witnesses the source of the chime.
The special effects are stunning. Brooks captures the curvature of Earth in all its glory. The sight of Matthew floating in space, tethered to the station, looks photorealistic. The filmmaker truly appreciates the beauty of our blue marble; the shot of the sun setting behind the planet is bound to drop jaws. But Brooks has fun with smaller moments too, depicting a perfectly spherical drop of liquid, suspended in vacuum.
The film studies loneliness, isolation, the power of human perseverance, aside from, of course, basking in the existential wonder of whether we're alone in the universe. Complemented by Nir Perlman's fantastically foreboding soundtrack, Solus is a remarkable visual achievement that announces the arrival of a major filmmaking talent.