A night on the town for Sally (Jennifer Berry) turns into a fantastical illusion at the hands of sensual club-goer Jack (Claudio Predieri) – while the battle for intimacy with fellow pursuers (Ell and Rebecca Bartlett) rages. Though almost no vocal narrative is attached, the film displays its message through the means of movement.
Berry and Predieri are beautifully paired – their chemistry through dance makes itself apparent. Berry physically shows the yearning for involvement, the excitement at potential love, and the hurt of rejection through her performance. Predieri displays that same yearning, shadowed with conflict and uncertainty, making their combined performance confusingly alluring. Choreographers Berry and Predieri are able to tap into an emotional physicality that is reminiscent of the 1961 West Side Story "Dance at the Gym" scene. The overflowing jealousy, anger, fear, and attraction are palpable.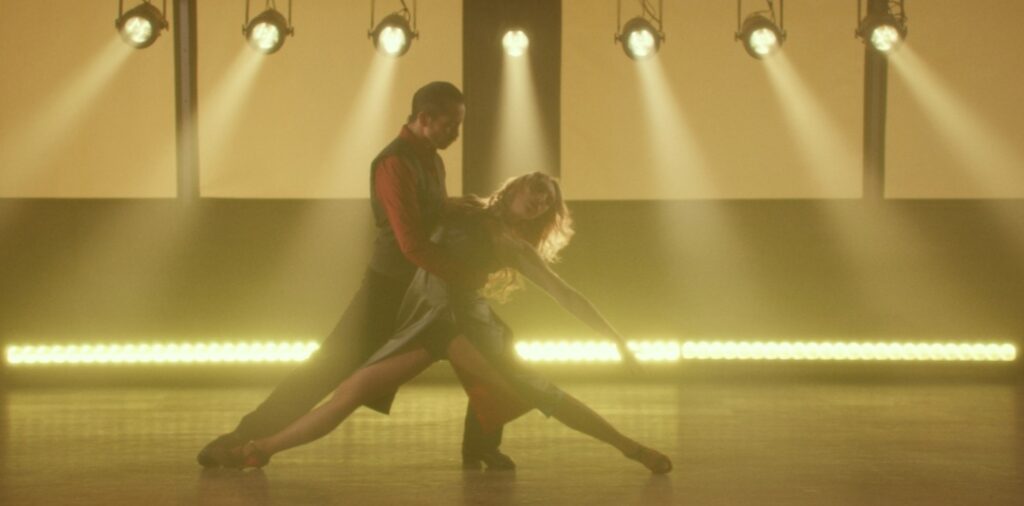 While not in the dance numbers, the visuals of the film sometimes fall a bit short – the lighting is overly accentuated, exposing the surroundings too clearly. This has the effect of removing the audience from the dark, sultry experience. There seemed to be a missed opportunity in utilizing the surrounding space to build emotion within the narrative, and in a film so reliant on visuals, this feels like a missing piece.
However, director Brian James Crewe and cinematographer George Feucht battle this with rhythmic and intriguing camera work. The rhythm has to be the center of a film so predicated on dance – and this is seen strongly in the cinematography. While in the dance scenes, the camera work is quick and pointed, often highlighting a feeling rather than an image. While the scenes taking place out of the fantastical world fall flat, the work inside of the fantasy excels.
Sultry, exciting, and beautiful all at once, Cabeceo is a moving (pun intended) experience for audiences.