Take2IndieReview sits down with the Composer, Audio Post Sound Designer and Mixer.
Did you set out to compose for film or end up doing it as an outgrowth of musical performance? Danny Elfman was a member of the band Oingo Boingo before writing for film, and Mark Mothersbaugh was famous for being a member of Devo, before writing scores for TV shows.
I'd like to add Trevor Rabin to that list as a big YES fan. From college on, I wanted to do film and TV scores. I haven't been interested in performance since high school, although I am starting to get a little bit of a bug for it now. I am finishing up two digital audio CD's of non-film music now. One is music for meditation and the other is synthesizer driven instrumental songs. Kind of a retro 80's thing.
Do you have a philosophy pervasive in your work?
Yes. We use music for many reasons but the primary reason, and often overlooked one, is that the purpose of music in a motion picture is to make the world of the story feel real. If it does that, it's a successful score – despite style, genre or quality of the music. Whether the music is well crafted, memorable or innovative is not as important as creating verisimilitude. OK, that's my favorite big word.
If you are an instrumentalist, what instrument do you feel most comfortable with? Do you use your own playing on scores?
I am a piano player/keyboardist and play all the parts on keyboards. When I was younger I played a little guitar, clarinet and saxophone. I have always been a very skilled producer. I am able to do very convincing orchestral scores, and I am good at drum programming. I was lucky to have a nice touch on the keyboard which made creating expressive parts, with samples and virtual instruments, possible. My ears are also particularly tuned to how to get the best parts of samples, to get very expressive music out of them. In the past year, I have been getting into hardware synths and recording those live onto audio tracks, incorporating them into scores as well, which requires more precision than using virtual instruments, which can be edited after performing the parts and speeding up the tempo.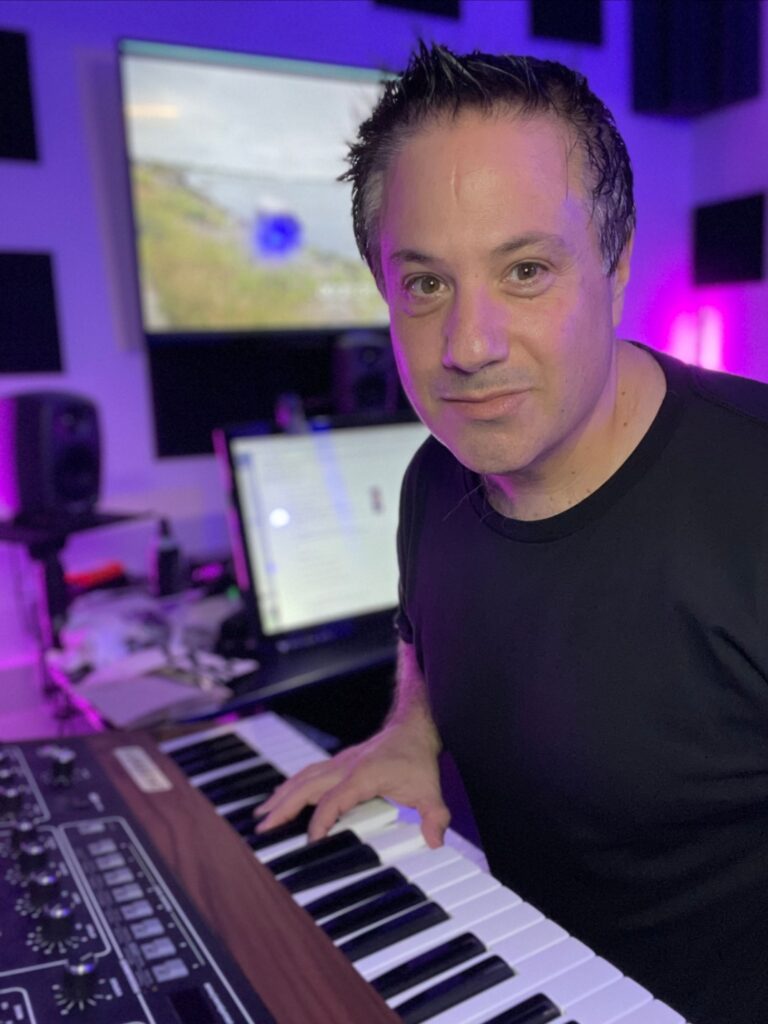 Have you worked with a live orchestra before?
Not since college. I work a lot in indie film and cable television, where both time and budgets are restrictive in using live orchestra. Over the years, I have learned to make virtual instruments and samples really convincing. I created an award-winning score in 2014 for a documentary based around virtually creating choral music using Latin text called MEXICO, EVER FAITHFUL. Much of it can be heard on my digital CD URBAN CATHEDRALS.
Do you compose at the computer, using virtual instruments or tend to write on paper?
I do both. In Digital Performer, the Digital Audio Workstation I use, shows everything in notation which I constantly use as a reference. I will sometimes compose sketches on paper or into notation software I am always writing, whether working on a film or not, and like to have the notation available to me to revise and edit my music.
Your work covers a lot of styles. Do you tend to come to a project with a musical style in mind and propose it, or do you prefer to see what the director or producer has in mind?
Both. I generally have a gut reaction to what I see and I like to share that with the filmmaker and combine that with what they have in mind. I like to take a style and modernize it. Like in a recent film RAMSEY: THE VANDY CASE (Coming to AFM in November) which is a modern day film noir. It has great plot turns and surprises in the script, but is also a classic private eye film. Rather than using the standard jazz language and swing band ensemble with strings, I created a different language steeped in the musical conventions. But rather than using swing rhythms, the theme is based on a shuffle rhythm and more of a pop/rock vibe using dissonant jazz chords. The score also explores some other elements such as trap rhythms and even EDM in moments.
Does the collaborative process with the filmmaker usually take the same shape? Do you use a formal "spotting session?" I heard Carter Burwell, who wrote many of the scores for the Coen Brothers, has written the lion's share of a score without seeing the film. Other composers seem to give the filmmaker a preview of thematic material. Can you give some examples of how you have collaborated?
Sometimes there's a spotting session but usually it involves a conversation or two. I like to explain my ideas and create a few minutes of samples as a starting off place. If the initial music cues work, then generally it's fine tuning later on. If the samples I create don't work for the filmmaker, then I need to go back and create something else based on their comments. Once the major feel and direction is settled on, I give periodic samples of the film, with the music dropped in for feedback, and to keep communication open. I think the situation with Carter Burwell might be atypical. But he writes amazing music, and the Coen Brothers have done so many wonderful and unusual films. So clearly whatever they're doing is working great. I love that each film has a style and rhythm which inspires something new.
Have you ever written songs with lyrics, for film or for performance?
I used to write musicals and did a lot of work in children's theater. I was in the BMI Advanced Musical Theatre Workshop from 2000-2004 and learned so much about using music dramatically.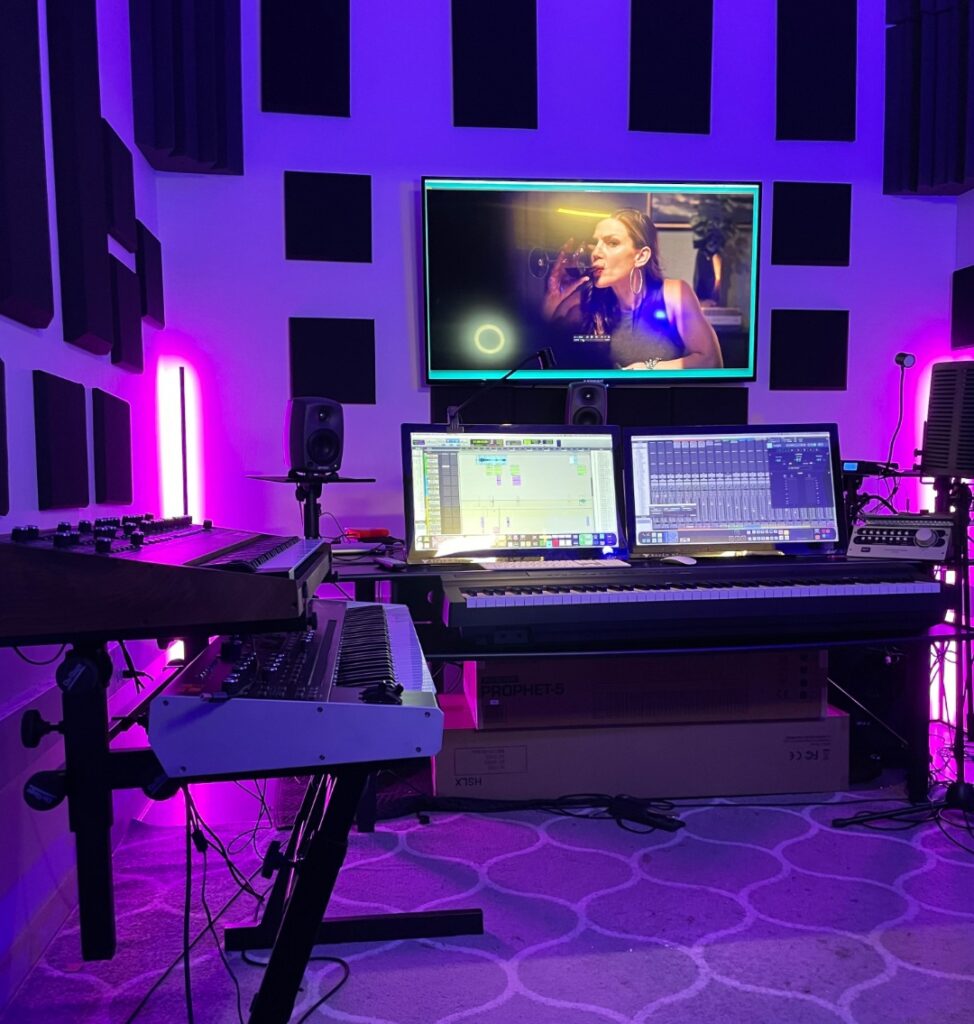 Where are you based?
New York City.
Have you worked remotely with filmmakers?
Yes. A lot. Even before the pandemic. There are filmmakers I have worked with that I have never met, and wouldn't know if they were sitting next to me at a restaurant. I just finished sound designing, mixing a documentary for a producer – and we only met once. The director and I didn't meet in person. I am currently scoring another documentary and the scoring is all remotely.
Do you have your own studio?
Yes, in Soho, in New York City.
How long is a reasonable time to allow for writing a score for a short film? A feature film?
I recently scored, sound designed and mixed CHRONICLE OF A SERIAL KILLER in about 10 days. This film is on all streaming platforms and even some hotels and airlines. It was right after lockdown and I loved the psychological thriller so much, I just dove in and worked around the clock. That's probably not a good yard stick. For a feature, typically 2-5 weeks depending on the length, style, budget and amount of music it needs. A short could be a few days to a couple of weeks. Again, depending on the music complexity and quantity.
Who is your favorite film composer and why?
You know I can't name just one. There really is a wealth of amazing composers throughout history. As for traditional orchestral composers, I love John Williams, one of the greatest melody writers of all time. Jerry Goldsmith was a giant and I think Bernard Hermann may have a more direct influence on me stylistically for his use of tension. I am really fond of both Thomas and David Newman. Of course, Hans Zimmer revolutionized film scoring and is so great at storytelling. I love Harold Faltermeyer's scores. He wrote great music and mastered the use of synthesizers with great themes ushering in the buddy comedy/action style with BEVERLY HILLS COP. The music was both specifically 80's, and classic. He also achieved an instrumental hit which is a personal goal of mine. Bill Conti did it in the 70's with ROCKY. Other current greats are Ramin Djawadi, Michael Giacchino and Christophe Beck does comedy so well. His score for TOWER HEIST is amazing.
Could you explain where score composition ends and sound design begins?
I think that is what is being created, is the sound of something in the world of the film – a space ship, a piece of technology, something we've never seen but is in the environment – then that would be sound design. If it's for dramatic purpose, it would likely be score. To me at least.
I want to express my appreciation to Jeana and David for the Interview – and for this wonderful opportunity to share my thoughts with the Take2IndieReview readers.
Spotify Artist Page for Andrew Markus