Glenn Garrabrant's poignant micro-budget drama Visiting Friends brims with emotional authenticity. Elegant in its minimalism, the film never bites off more than it can chew, focusing on its lovely central relationship and allowing its thematic elements to accumulate. As a result, Garrabrant avoids manipulation – the forlorn protagonists' longing expressions bound to linger in the viewer's mind long after the credits roll.
Failed musician and rideshare driver Zach (Michael Farca) picks up the mysterious and clearly saddened Angelina (Giana Carli). Upon drop-off, he watches a man treat her repugnantly and comes to the conclusion that she's a "high-class prostitute". When he picks her up again, her eye is bruised, her make-up smeared from tears. They bond. She is, in fact, an escort, working for some dangerous men, doing her best to support and protect her daughter. He's going through a painful separation. Two lost souls find solace in each other. Will it last?
The writer-director carefully calibrates his sequences. "I don't love you anymore," Zach's wife, Sandy (Lani Stait), snaps when he pleads to talk it out – a statement that singes like a searing-hot spear. At the hotel room, Angelina's first impulse is to get Zach in bed; her expectations are defied when he offers her dinner instead, as well as a plane ticket and a free guitar lesson. "They will kill me and kill my daughter," she tells him, so he introduces her to his lawyer friend, Kathy (April Lowery) – another perfectly-pitched, tender scene.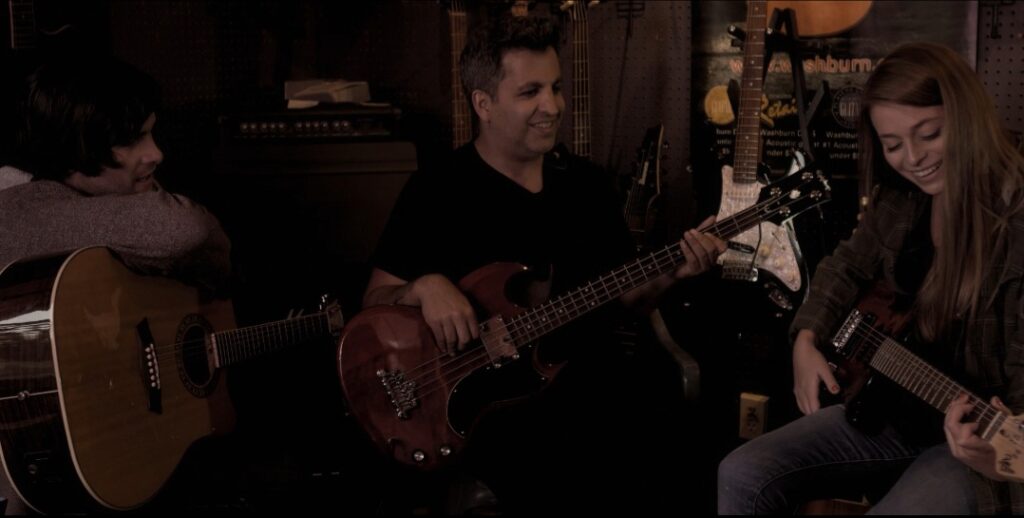 Garrabrant's affection for lonely folks living on society's fringes is palpable. He reiterates the importance of kindness, friendship and emotional support – an all-too-timely message in these inhumane times. He questions whether people can actually grow and change past a certain point in their lives. Supplemented by a light sociopolitical motif, wherein the filmmaker condemns the hierarchical structure that leads to such desperation and despondency, Visiting Friends proves to be a rare specimen indeed: a character-driven piece that doesn't rely on bombast or speechifying to make its points.
"I'm lonely, to be honest," Zach says. A bit hunched over, stout, soft-spoken, Farca gives a multifaceted performance, bitter about his lack of success, scarred by the impending divorce, perhaps exorcizing his own demons by helping a stranger. Carli fares even better, skillfully shifting between terrified and blank, seductive and world-weary ("Whatever you want to do, baby," she tells him over dinner). Her large eyes are truly windows into her soul.
With Visiting Friends, Garrabrant shows real empathy as a filmmaker – a crucial quality that a lot of industry pros seem to lack nowadays. His film may lack the gloss and slickness of a studio picture but it makes up for it with genuine feeling. Seek it out.