Appraisal, written and directed by Anna Koukouli Born, depicts the struggle all women face when returning to work from maternity leave. The pressure they feel to reintegrate into an organization that's heavily male orientated. The internal self-doubt they feel when having to justify that being a professional and a mother isn't a disability. This is just the tip of the iceberg! Appraisal, starring Rachel Hip-Flores, ventures below the waterline to highlight the battle women face, not just in the workplace, but internally as well.
Appraisal is essentially a meeting between an employee and her supervisors. We open to an empty boardroom where a less than enthusiastic young woman enters. Clearly not interested in her task, she throws some pens around the table in an attempt to make it look neat. Satisfied, she hastily storms out of the room to her next task. Ready, nervous and more than a little apprehensive, Claire (played by Hip-Flores) enters for her appraisal. The first thing she notices is the state of the table, so hastily put together, it suggests they don't really care about the meeting at all. It's considered an admin exercise, just a tick in the box. A little put-off she makes a call, supposedly for some moral support. As the phone rings, the shot swings around to her back, zooms in, and fades to black.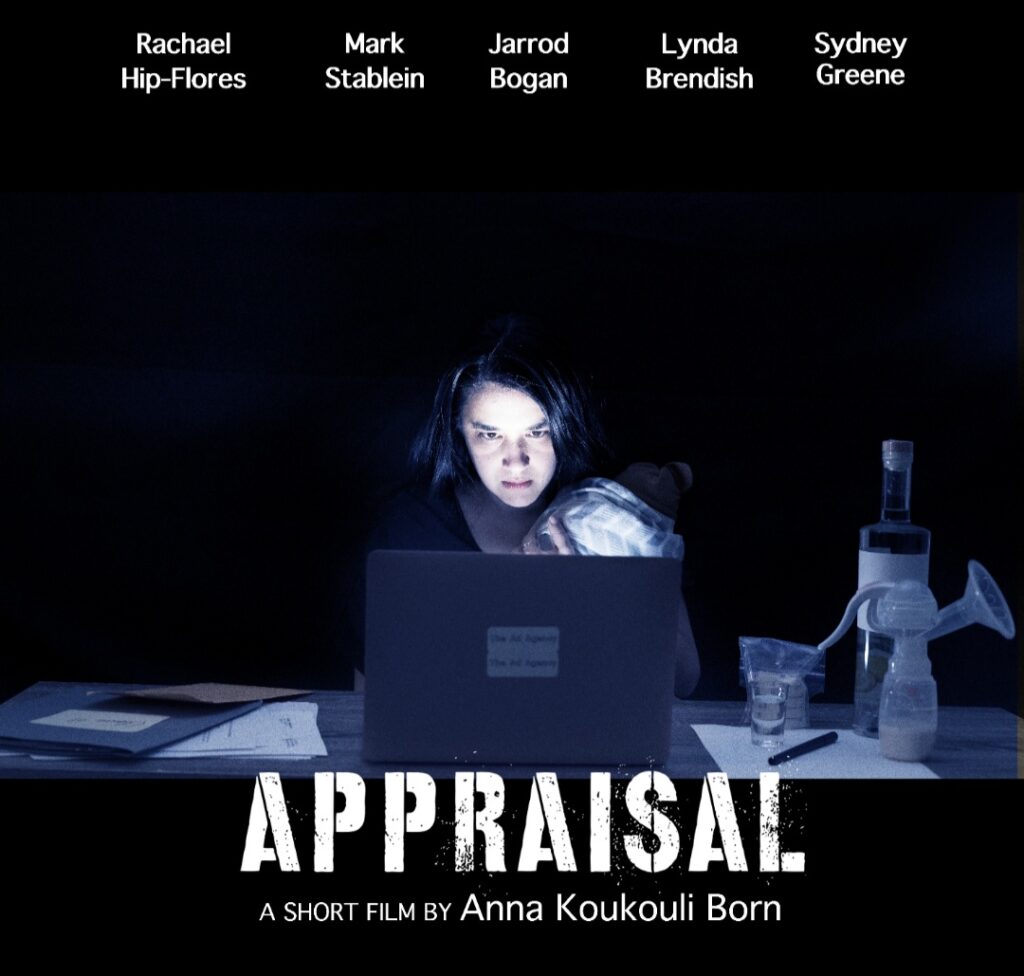 As the shot fades back in, there's a clear change in atmosphere highlighted by dark lighting and heavy shadowing. As the supervisors take their seats, some late and clearly unapologetic, the appraisal begins. More interested in her husband's promotion or his new corner office, Claire is hit with a tsunami of "it must be difficult", "it's hard" and "how's the little guy?" As the appraisal progresses, it's clear they want her out and that this is just a formality. Questioning her commitment to the business because she's a woman, wife and mother, is cleverly woven into the narrative using visual storytelling. As her supervisor questions her ability to give 200%commitment, her husband is hugging her, touching her and distracting her from the question. It shows a clever visual interplay between the two expectations of reality. Clearly she can do both! This visual interplay is used for a wide range of scenarios, from breast-feeding to just being a mom, and this is what makes this short work so well. The visual impact of ones perception vs. reality! None of this could have been achieved without the fantastic performance of Hip-Flores, her impressive range proving a result many will relate with.
Appraisal takes a bold and intelligent look at the many issues and prejudices women face in the workplace. Claire is an example of what many women face – and fight through. While changes are being made, and men's perception to women in the workplace is improving, much more work needs to be done. This film is a clever and insightful piece that lends more evidence to the fight for workplace equality.