Álvaro Gabarrón's second short Riot (Desmadres), is a nearly 28-minute-long tragicomedy with its heart in the right place. There is no denying the affection felt for its characters by both those in front of and behind the camera; with all their quirks, imperfections, and insecurities brought to the forefront. Gabarrón has a budding affinity for this expressive style of filmmaking, but he has some homework to do, along with the entire creative team from the Spanish indie team, Alga Films.
For starters, Riot doesn't present itself well on the technical side of things. The camerawork is bland and unmotivated, with scenes recorded in wide, locked-off long takes or spliced together using distracting cross-dissolve transitions. It's an editing choice best attributed to homemade iMovie projects and serves only to hide a lack of shot planning and editing. The sound design is bare-bones, with audio often being cut mid-transition or overpowered entirely when the music kicks in. When all is said and done, nothing looks or feels fine-tuned, as serviceable as it may be on occasion.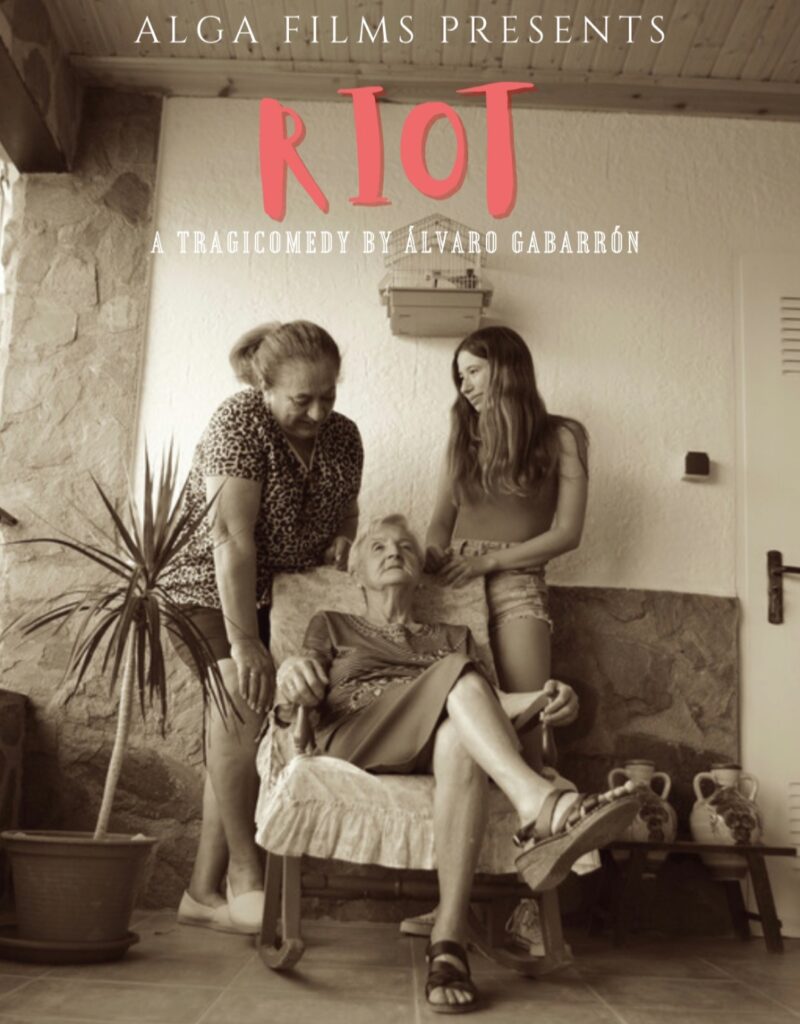 The script is also badly in need of some downsizing, with the main storyline not kicking into action until twelve minutes in. Instead of adequately setting the stakes for the plot ahead, Gabarrón (who also wrote the screenplay) spends time making poorly calculated attempts at comedy, with a smaller cavalcade of soap opera gags and routines dominating the screen. Dated tropes such as "the dreamy, handsome Italian plumber" and "the grandmother yearning for an exotic boyfriend" all make appearances in Riot, which all end up detracting from the otherwise heartwarming realism this film wants to convey. And when it comes down to the performances, they all fall flat or lack the urgency necessary to sell any given moment effectively.
When the spotlight is directed towards the leading duo of women, Teresa (Lucía Fernández) and her grandmother Raimunda (Resure García), the story drags as they sit around and talk. Then, they move to a new room to sit around and talk some more in a seemingly endless, repetitive cycle. The dialogue is stilted, with the interactions coming across as stagnant, and the included subtitles do little to make sense of the on-screen goings-on.
The filmmakers behind Riot challenged themselves with sentimental subject matter, only to come up short with technical blunders and noteworthy mistakes in their storytelling choices. While casual audiences might want to sit this one out, the creatives behind it can – and should – use it to build upon their undeniable passion for filmmaking.