A reinvention of an Agatha Christie classic, Soldier Island is a 65-minute screendance period piece that offers a new perspective on the murder mystery genre. The costumes are excellent, the performers spectacular, yet the film suffers from a kind of sensory overload that makes it hard to watch at times.
The film begins with an ominous little sequence that reveals the plot through a catchy electronic song and dance. It's an intriguing start that continues the momentum with the introduction of Kelsey Flanders' Justice Wargrave, set against the backdrop of a gorgeous countryside railroad track. From here, the film unravels its premise by gradually introducing every character summoned to the titular island. As more performers join the ensemble, though, the novelty quickly wears off.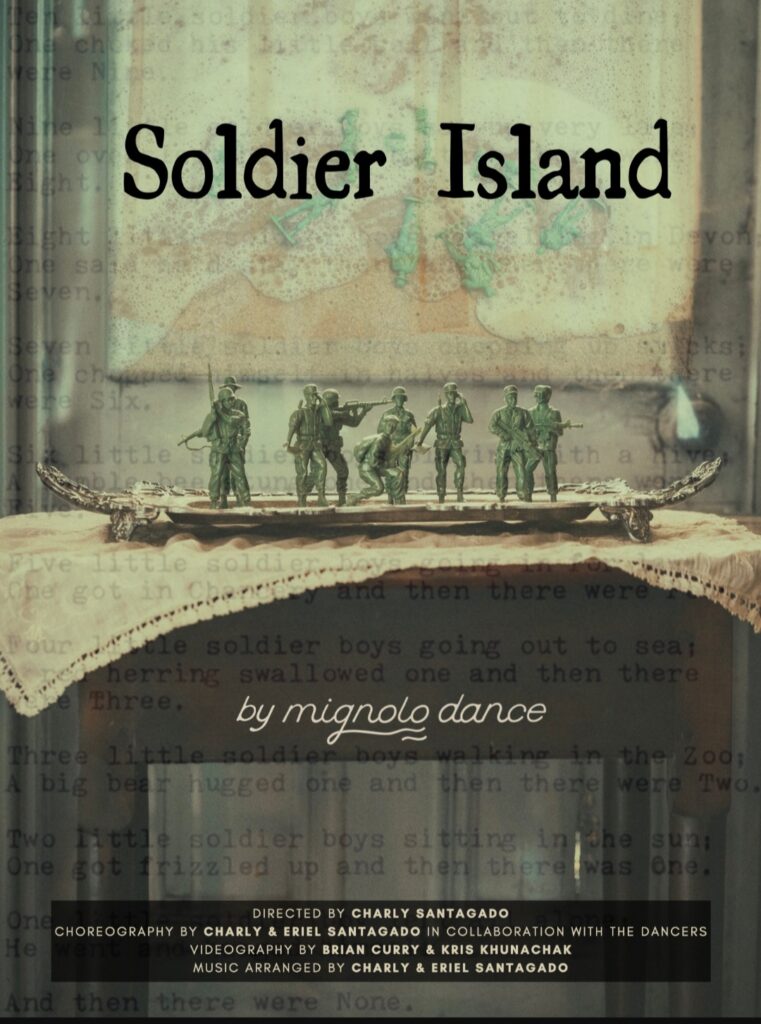 Each dancer is given their own individual stage via split screens that progress into smaller boxes, almost like a Zoom call. Because of this pandemic-friendly filmmaking solution, very few of the actors interact with each other or interact in any way. It's an interesting concept at first, but as the plot thickens, it becomes increasingly difficult to pay attention to each key player. It's a hectic juggling act that's difficult to follow because there's simply too much going on. Dialogue is virtually non-existent, and context is primarily delivered with subtitles. These just get tinier and tinier, and without any immersive sound design, the film struggles to hold its viewers' attention with such fragmented imagery.
To say it completely misses the mark would be doing a disservice to a handful of brilliant moments, though. When the choreography syncs up and the locations match, it is truly a special showcase of coordination, with some really intricate and meaningful compositions coming to life. A stunning finale sequence starring Karolina Holmstrom's Vera Claythorne is without a doubt the standout. The props and the outfits are perfect, lending the film its necessary vintage feel. And given Hollywood's underwhelming attempts at modernizing Agatha Christie's work as of late, it's a refreshingly unique take on the author's work.
Soldier Island has talent to spare but locks its dedicated cast behind a presentation style that struggles to find its footing. Between its fantastic locations and costumes, there is still a lot to appreciate, along with the immaculate choreography.