Brimming with empathy and insight, Samantha Lavin's 10-minute inclusive short Val-e-ree will haunt the viewer long after the credits roll. A subtle story of female empowerment and exorcizing demons, it conveys a lot with just a few actors and one location. It's especially relevant in the current turbulent climate of clashing ideologies and political unrest. Lavin looks past all that, at a heartbreaking, ultimately inspiring story of a woman scorned and consequently finding her way back to potential redemption.
Traumatized after being sexually assaulted at work, firefighter Val (Maryfrances Careccia) finds herself deep in the throes of agoraphobia, alone and jobless in her cheap hotel room. She needs her medicine delivered right to her door, but the mailman keeps leaving it just far enough to ignite embers of panic. Val knocks on her wall to get the attention of neighbor Lorrie (Jennifer Winslow). When Lorrie attempts to help, it triggers horrific memories of the assault. As for the film's finale, and Val's profession – it's best left for the viewers to discover for themselves. Careccia holds the entire film on her shoulders, portraying both vulnerability and immense resilience.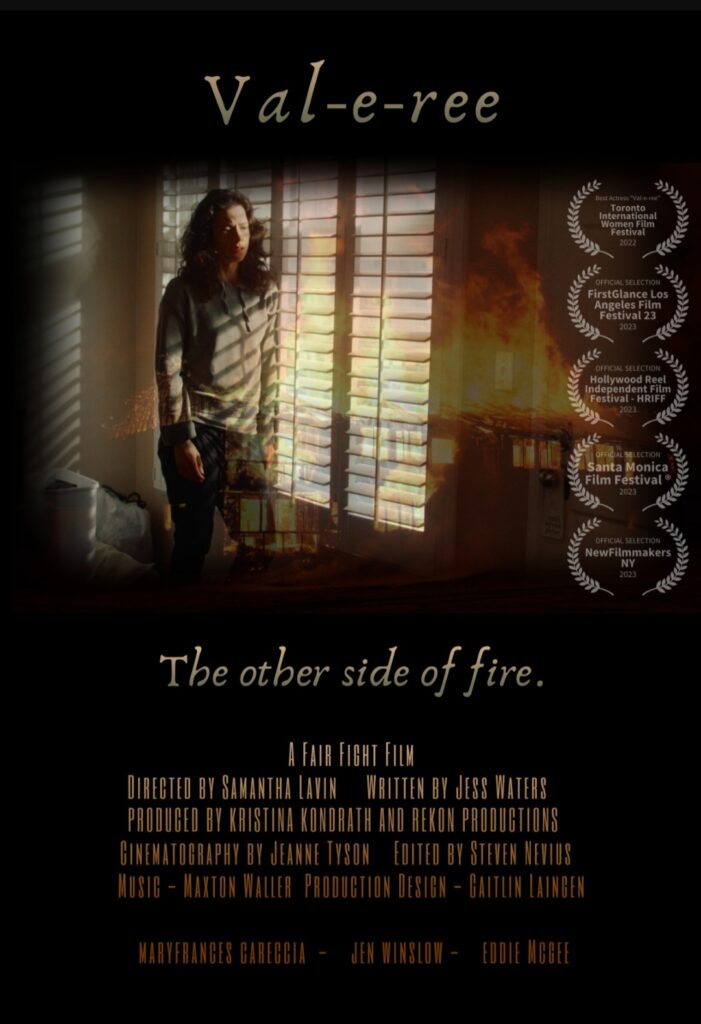 "By the time the smoke sneaks under the door and wakes you up, flames are all around you," Val tells Lorrie about the perils of silent fires – a metaphor for the silently encroaching male toxicity, seeping into the workplace, into everyday lives. Lavin gently examines the repercussions of such an assault, emphasizing the long-term psychological effects and the fact that women are strong enough to recover from the most dire events. But they shouldn't have to.
The film opens with the dictionary's definition of the protagonist's name: "female, strong, brave". The same adjectives can be applied to this film's production, which, as far as I can tell, featured a predominantly female (and transgender) crew and sensitively deals with a hot-button topic. To condense an entire paradigm shift into 10 minutes is no easy task. Lavin and screenwriter Jess Waters are more than up for it.