Death, as a concept and as an entity, has received numerous on-screen iterations throughout the years. Perhaps most significantly, in Ingmar Bergman's iconic The Seventh Seal or more recently, in Puss in Boots: The Last Wish. It's a character that brings genuine weight to the right story and that's, unfortunately, not director Miguel del Campo's A Lovely Death.
A silent short film that plays to a beautiful musical composition by Miguel De La Rosa, the film opens on a small apartment as The Grim Reaper (Roy Shellef) arrives to collect a soul. The inhabitants, Felicity (Chantal Casutt) and her boyfriend Arnold (Nico Elia Wander), are understandably quite startled, and a scuffle ensues. Arnold's abusive tendencies surface, but The Reaper strikes him down, leaving Felicity breathless, and now with a yearning affection for death itself.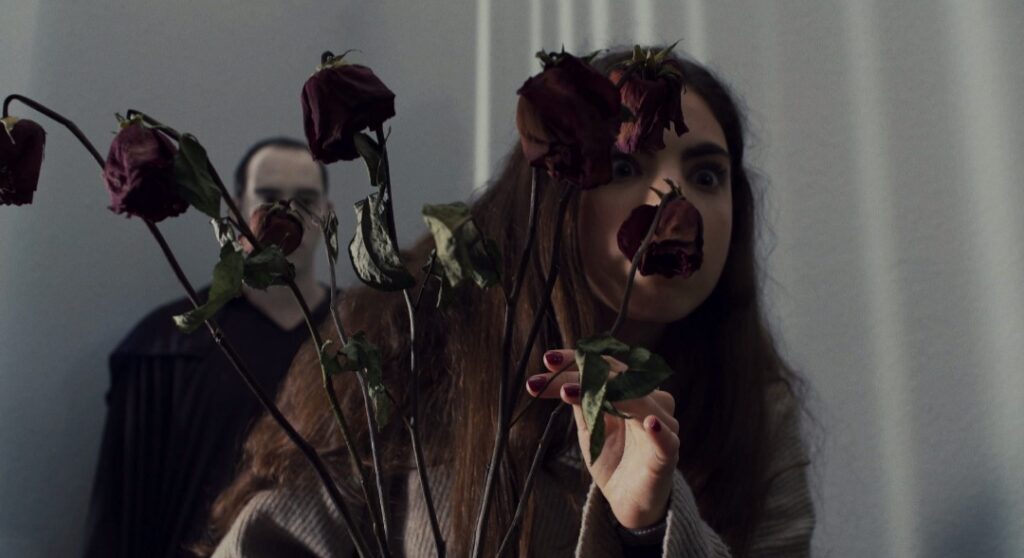 It's an interesting premise on paper, and del Campo adds some great touches to this twisted Beauty and the Beast story. The book that The Reaper carries around is a fantastic prop, as are the dying flowers inside Felicity's apartment. But these pleasant creative flourishes are sandwiched in between a myriad of problems. The blocking and the staging leave much to be desired, and Arnold's death, a moment that is meant to serve as the dramatic catalyst, falls flat because of it. Shellef's deathly, yet gentle presence, is hampered by a poor costume choice and framing that fails to bring out his character's aura. Casutt is fine in her role, but given the muted dialogue and limited scenarios she is allowed to operate in, she fails to make a lasting impression.
The silver lining here is that A Lovely Death manages to send its viewers off with a fittingly melancholy and satisfying conclusion. Beneath its flawed execution lies an important message regarding abuse, one that should not be overlooked. And while its climax doesn't feel totally earned, it leaves the door open for conversations to be had afterwards.