Cassian Elwes is a well-known film producer with an extensive career spanning over three decades. He has been involved in producing many critically acclaimed and commercially successful movies, including Dallas Buyers Club, Mudbound, and Lee Daniels' The Butler. He's also garnered a following for an infamous 2012 flight incident, during which time he tweeted extensively about his ordeal with a dangerous man onboard the aircraft.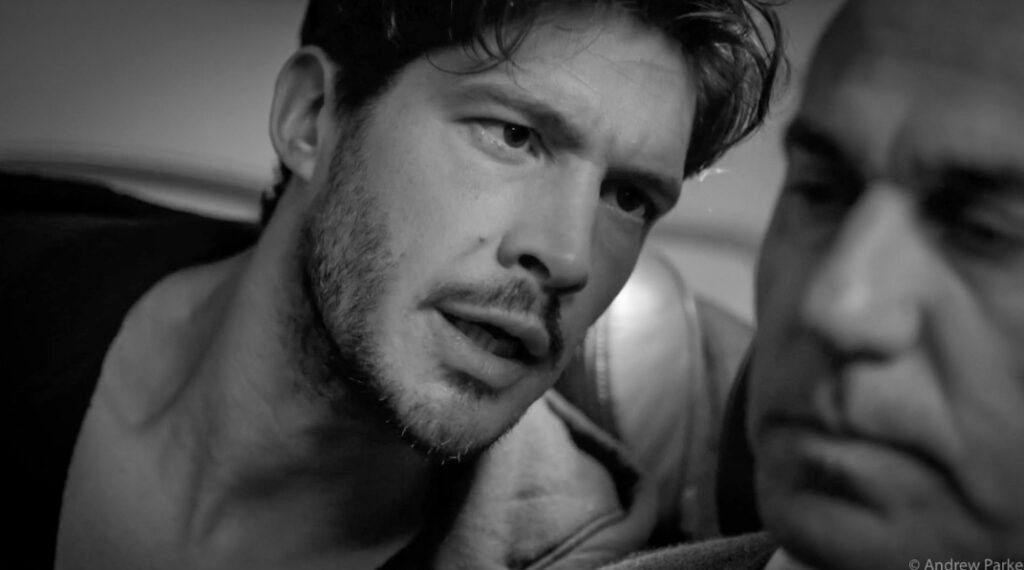 Passenger C is Elwes' directorial debut, and it just so happens to divulge the 2012 flight story with all its intriguing details intact. Elwes (Jon Jacobs) unassumingly boards a late-night flight from JFK to LAX, only to encounter strange goings-on after takeoff. An ex-Marine begins to exhibit erratic behavior, causing panic and disturbance to everyone in the cabin. As tensions mount, Elwes engages Marco (Eric Bruneau) in a conversation about movies. As the plane is forced into an emergency landing and Marco is hauled away by authorities, he leaves Elwes with a note. The film also explores the events preceding it and the complications it would cause Elwes during his producing duties on Dallas Buyers Club and The Butler.
The attention to detail is staggering. From its effective use of black and white cinematography (Andrew Park) to a storyline that, despite having all the hallmarks of a biography, winds up being a far more introspective and personal experience. There is weight behind each interaction, which is helped by the fact that the filmmaker is also offering a glimpse of his field of work.
The aforementioned event that inspired Passenger C is a suitably tense affair and makes good use of its cramped set piece. A catchy soundtrack (Hunter Perrin) is also on full display, constantly moving the story forward. Perhaps the film's biggest triumph is how well it manages to blend the goings-on in Hollywood with something so obviously important in the life of its subject. It manages to come full circle by the end of it all and stands uniquely on its own because of its creator's extraordinary experience and a fabulous performance by Jacobs. Passenger C is a must–see for anyone interested in filmmaking and an inspiring fact-based story.