If you look up the meaning of the Italian word MALAVIVRE – underworld is listed. Writer/director Max Menghini takes us into the underworld with his Italian short film with English subtitles.
A lone, compact, silver two-door hatchback is parked where the road meets dry tufts of grass in an indistinct, possibly industrial, location. It's a bright, sunny day and sitting in the driver's seat is a young man sporting a black beanie and a band-aid on the bridge of his nose; he rolls himself a joint during the opening credits of MALAVIVRE. Menghini promptly establishes an appropriate criminal context. The young ruffian protagonist is played by Andrea Di Biasio with casual confidence. The character is clearly no stranger to danger, but it is evident through his demeanor that he does not love conflict. He approaches a gang camped out under a bridge – for a drug deal.
One member of the group emerges to make the deal. Played with an intimidating presence by Mattia Dalla Vecchia, he tests the product. It is at this moment that the soundtrack produces a muffled beat that begins to pulsate and signals the attention of the audience – before there is any real reason for concern. Menghini works with Sound Supervisor Duccio Bellini to preempt these story beats, with literal beats, in a very successful way; the film unfolds information through multiple senses and those rhythms work in concert to give fullness to a rather short film.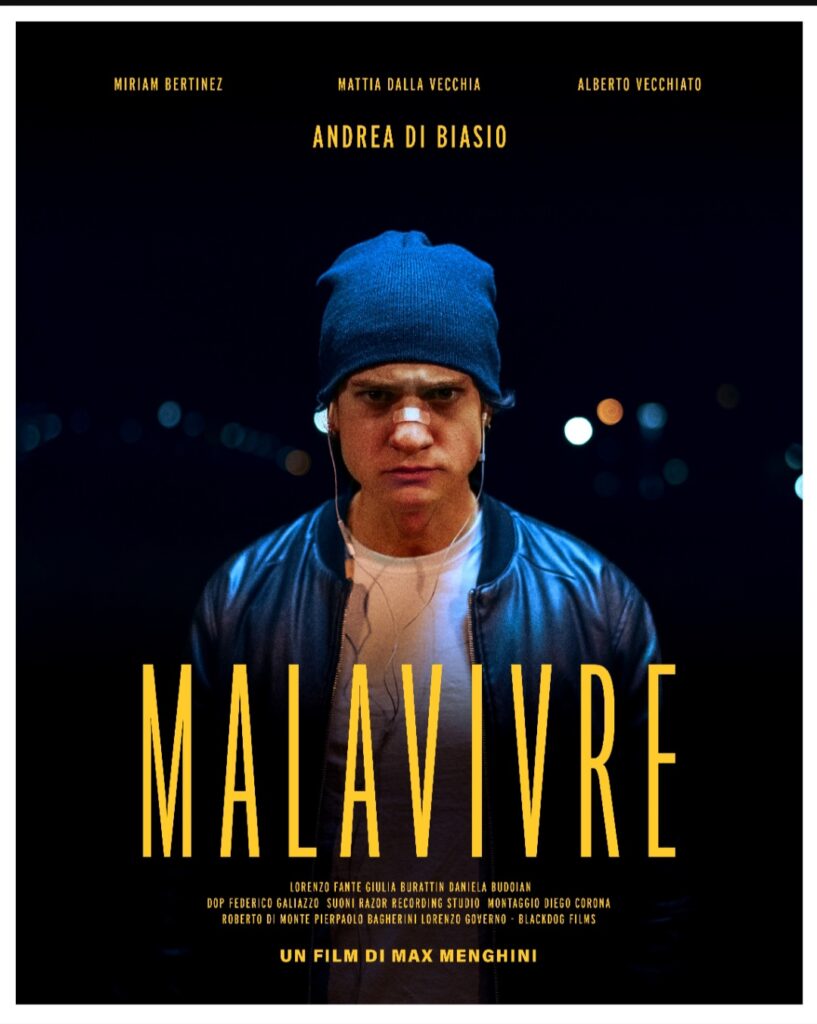 Shaded by the overpass, the drug deal escalates into a loud dispute over payment and continues to escalate further. Despite the complications, Di Biasio's character makes it absolutely known that he expects to be paid in full. We jump from this deal to the second half of the film. It is a dark night on a remote side street where the main character meets with a prostitute, played tenderly by Miriam Bertinez. This sequence goes on to punctuate the film with poetic gesture.
Under amber streetlights, the final sequence is sleek, largely monochromatic, and vivid thanks to the color grading of the film's editor, Diogo Corona. There is a stark contrast between this and the visual quality of the first half. The daytime sequence seems to handle the color and feel of the image in a way that is reminiscent of the bright, neo-noir moments of Christopher Nolan's Memento.
MALAVIVRE poses questions for its audience. The film could have done more to answer these questions. But even under five and a half minutes, the audience is intrigued. With much room for additional character/story development, it feels like a teaser for something more.