Director Kshitij Sharma goes for broke – literally – in his latest micro-budget oddity, Roached. Allegedly made for a measly $6,000, with a crew of five, the result is an impressive achievement – further proof that it doesn't take millions of dollars to stand out in the oversaturated world of cinema. All you need is an original idea, a sharp script, and some filmmaking savvy. Sharma brings all three elements in heaps.
Ostensibly a lockdown film at first – the plot begins with a game of "Who Would You", played by four friends via Zoom – Sharma ventures away from the claustrophobia of the overused, simplistic approach and into deeper territory. His film isn't just about the pandemic. It's primarily about what having to truly face each other reveals about people, as viewed through the eyes of Anu (Deeya Dey), a woman stuck in an abusive relationship.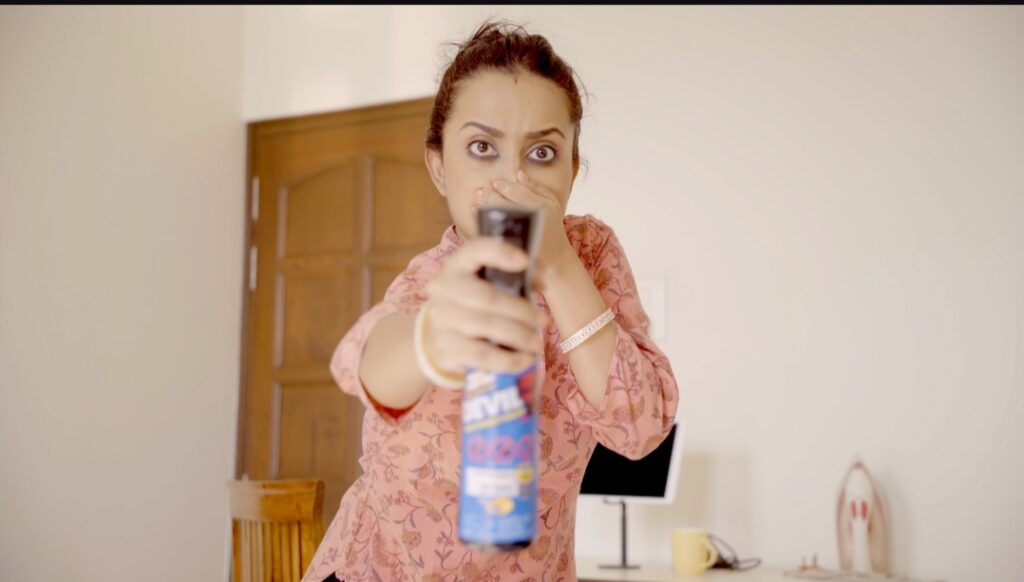 Anu's husband, Manav (Rudolfo Rajeev Hubert), is callous, controlling, borderline-maniacal. He beats Anu. He refuses to display an inkling of charity when it comes to helping out their maid during tough times. The appearance of an oversized cockroach only exacerbates things. The insect haunts and taunts Anu, until Roached ends in a prolonged, absolutely bonkers dream sequence.
Though Sharma's film primarily deals with hefty subjects like abusive, overbearing husbands, and the psychological mind games that is a mandated lockdown, he alleviates the proceedings with surprisingly sharp verbal zingers and inventive stylistic touches (e.g. assuming the POV of a cockroach). He's equally adept at helming more elaborate scenes, such as when Anu purposefully serves Manav tainted cookies, or an overheard call with a sensible friend results in violence.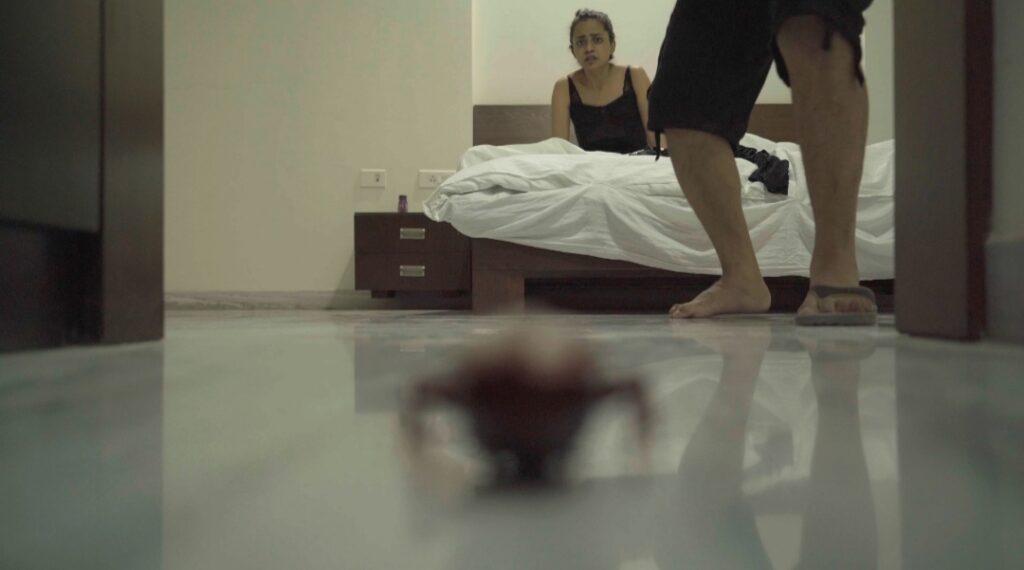 The creative success of a film like this hinges on the strength of its leads, as the narrative largely revolves around them. Luckily, the film succeeds on that front with flying colors. Hubert is all-too-believable as the sadistic, manipulative, toxic whale of a man. Dey's Anu is gentle but strong, seemingly subservient but fervently rebellious. They possess genuine chemistry.
Not all is perfect. Loud, poorly-mixed musical cues intermittently betray the film's ultra-low budget. Even at barely over an hour, Roached sometimes feels like an overextended short, making one question whether it would have functioned better as one. Nevertheless, there's real invention and creativity on display in this tiny gem of a film.