Props to filmmaker Omar Cook for multitasking. He writes, co-produces, edits, shoots, co-directs, and stars in the latest crime short Coke Boys. Sure, the 20-minute film is rough around the edges, and its plot focusing on betrayal certainly doesn't say anything new, but if Cook can conjure an entertaining piece like this on an alleged budget of $2,000, then one can only imagine what he could do with 100 times the amount.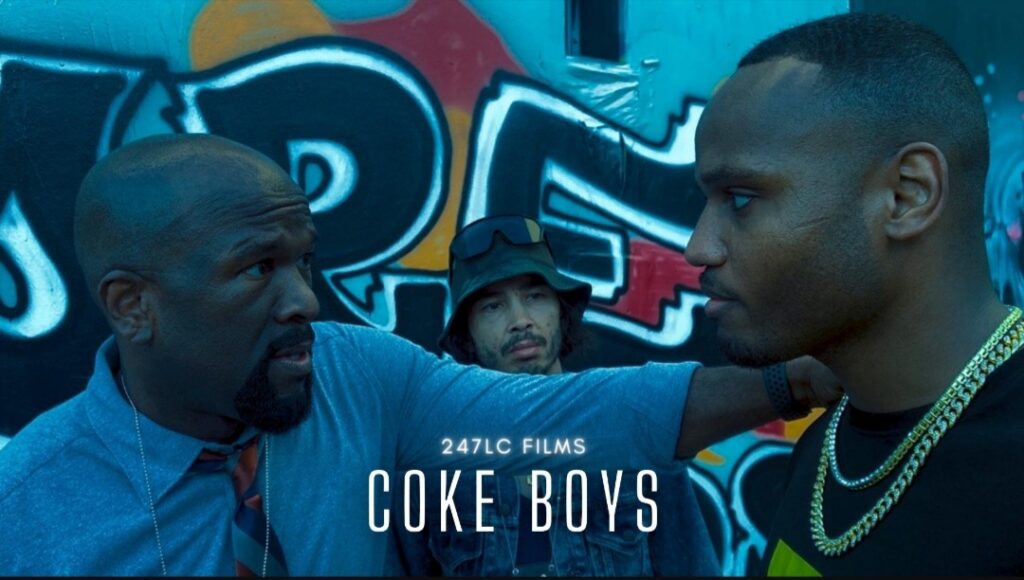 Cook plays the ruthless, determined Cain, a notorious South Central drug dealer. Seen cruising through Los Angeles in the opening montage, Cain spends most of his time counting money and separating cocaine and pills in a red-light room. "If I did learn one thing from the streets, it was to focus on the money," Cain says after threatening to shoot Q (Andrew Smith), one of his partners, in the head. "Only this time, chasing money got me into a situation I could've never imagined."
Indeed, as it turns out, his best friend Trey (Adonis Armstrong) is a snitch for the cops – specifically the gruff Detective Harvey (Clay Cureton). He's not really happy about being in this situation. "You're the real gangsters," he tells Harvey and his partner, "you just have badges to protect you." Unfazed, the detective threatens to bust Trey if he doesn't betray Cain. It all leads to the finale, which involves Cain entrusting Trey with a "million-dollar operation", the proverbial "one last gig."
Nifty little touches smooth out the DIY look and feel of this very lo-fi short. A cunning montage demonstrates the dangers and difficulties – call them "trials and tribulations" – of a drug dealer's life (lots of murdering). Coke Boys pays tribute to the City of Angels (or, according to the protagonist, "the city of demons") with its grimy, washed-out cinematography, courtesy of Cook and his DP Daniel Ray.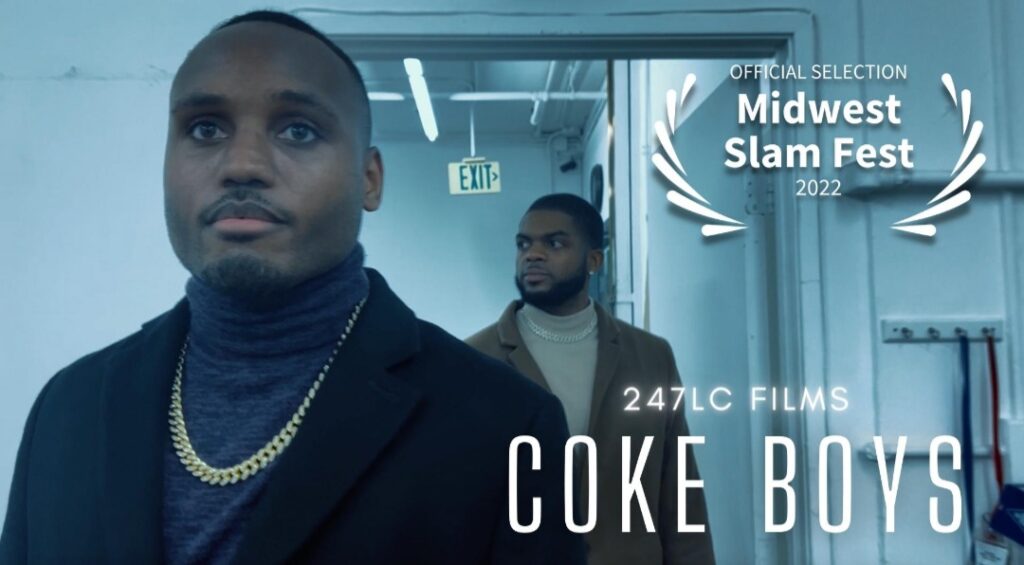 That being said, don't come looking for much subtlety or originality. The "one last gig" cliché has been utilized by dozens of films. The treatment of females leaves a lot to be desired: Cain cheats on his loyal girl Mya (a touching performance by D'Asia Kaliyah) with another woman whom he tells to "get the fuck outta the car". There are sound and editing issues aplenty, an audible click signifying each cut.
A gritty and real glimpse at life in the streets of one of LA's most dangerous neighborhoods, Coke Boys reiterates the fact that a lot of Black people still struggle to make a living, consequently resorting to heinous crime – the system remains broken, its fractures most evident in places like South Central. The potential is there. Cook deserves recognition for handling so many tasks. Perhaps next time he can focus on mastering one or two of them.