JP Bradham is a fresh face on the horror filmmaking scene, with her newest project Consumed currently making the rounds at film festivals. Based in Los Angeles, CA, she is an experienced veteran of countless productions and has been a four-time participant in the Sundance Collab writer's program. Georgina Reilly stars in Consumed and was recently featured in an article by Dread Central, receiving praise for horror film Pontypool from none other than the great Guillermo del Toro himself.
What can you tell us about your early life in San Francisco?
It's funny, not a lot of people know about where I actually grew up, which is Black Point, just outside of San Francisco, so I just say San Francisco because everyone knows it. So really, I was out in the sticks — not a whole lot of anything going on but that was what I really liked about it. You could just be a kid and come home when the street lights turned on and no one was worried about anything.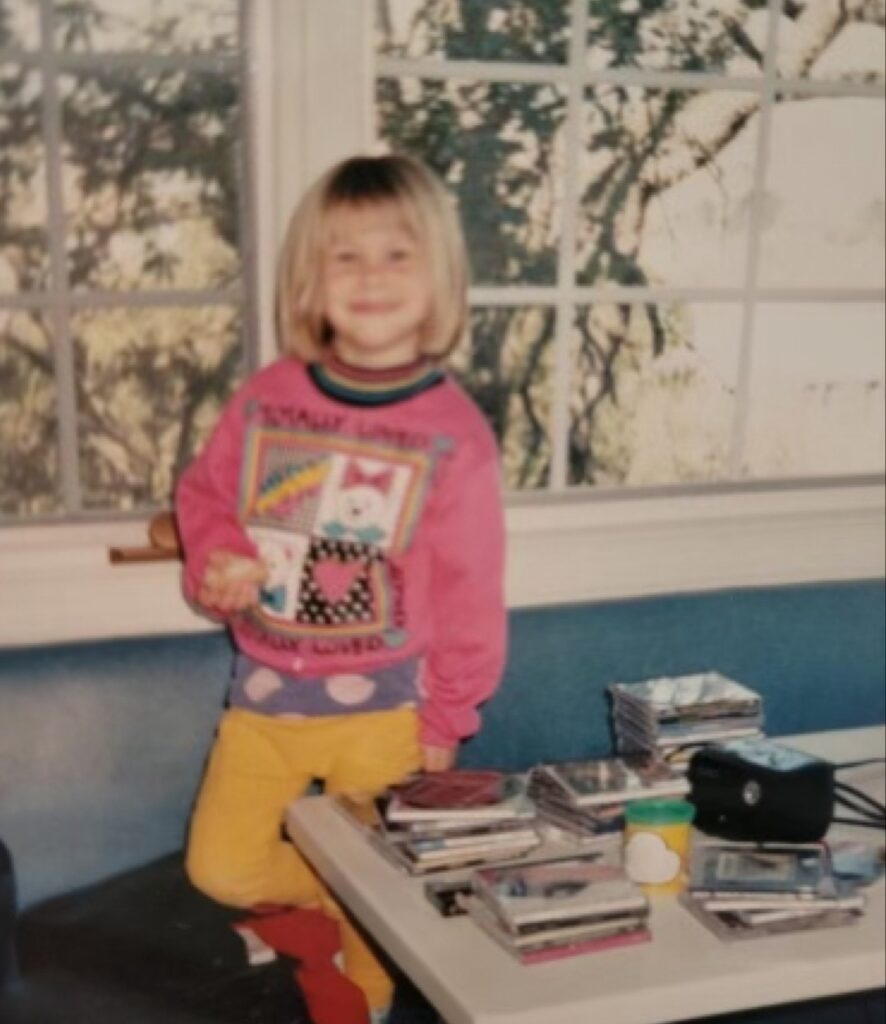 Childhood picture in Black Point
What initially attracted you to the horror genre as a filmmaker?
Growing up I watched a lot of horror with my dad late at night. I was always a night owl and would sneak up when my dad was watching late night TV and that was pretty much the only thing that was ever on. A lot of Vincent Price and a lot of The Twilight Zone. It already felt thrilling that I was getting away with sneaking out of bed, but even more thrilling that I was watching all of this content that I probably had no business watching. And yeah, now those materials are nothing, but when you're a kid it's all pretty new and alarming in comparison to Barney & Friends. I think another reason I am so attracted to horror is because it allows me to express those strange and non-linear ideas I have in my mind. I've never been able to think conventionally and it's a way to express strange ideas, and for the most part, people accept them because that's a genre that's very forgiving of strange thought patterns.
How do you approach the representation of female characters in your films?
I think Tammy is really like a lot of us, male or female. She is going through a loss and trying to compensate for it by creating something else to distract her from the pain. There's a lot going on with her and the impact from that behavior on her environment. It's a lot like how people really are: layered and complicated. I think being a female, I naturally create female characters because it's how I see things — through the eyes of a woman. It's not so much that I am really actively trying to create more representation, it's more about just telling stories from the way I see things. It's why it is important to give platforms to diverse storytellers because they will tell the story from a different point of view than you've been seeing time and time again.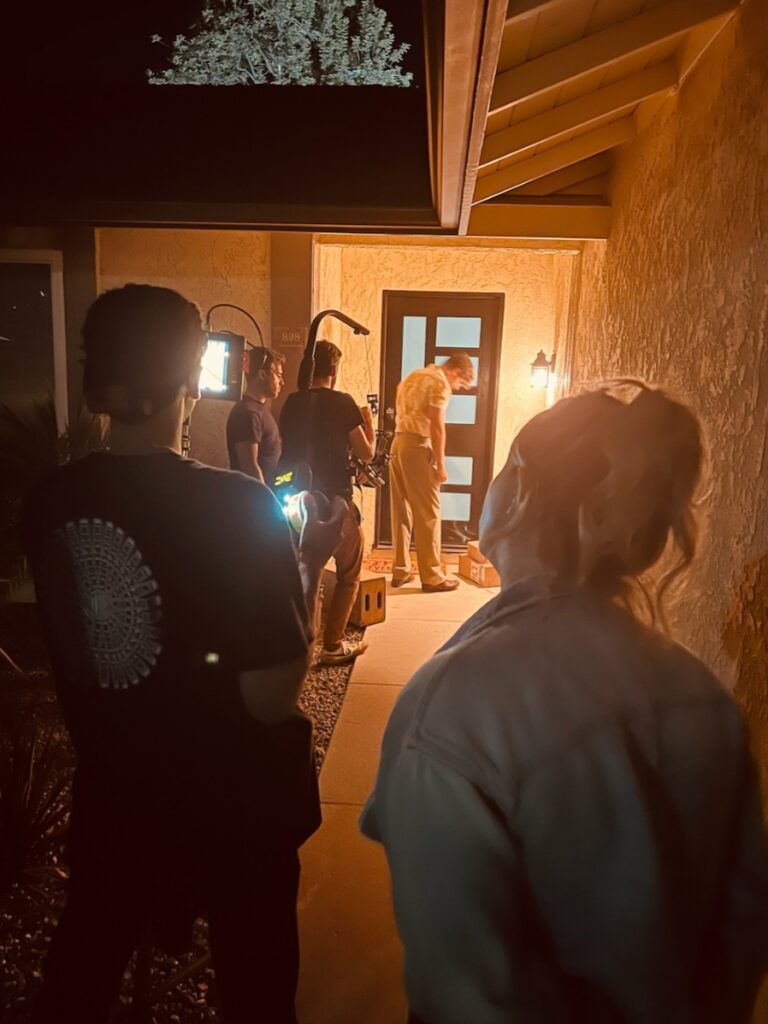 Shooting with DP
Can you tell us about any specific challenges or stereotypes you have encountered as a female filmmaker, particularly in this genre?
I think there's a narrative around the idea that there are challenges as a female filmmaker in horror because it is a male dominated space, but it really isn't so much that. It's the fact that filmmaking is incredibly difficult to get into unless you have the right connections or the right opportunities and I do believe that is true regardless of how you identify. What I've found oddly enough is: if you don't have the capital and you don't have the connections you need to be a little delusional. You need to put yourself out there and you have to shoot your materials despite every reason not to. That has probably been the only way I have ever been able to do anything, not having gone to film school or had any formal training other than on-the-job experience. It's making the decision that you are going to figure it out and then pushing through every possible barrier to make it happen and that comes down to the individual.
Are there any specific themes or subgenres within horror that you are particularly drawn to as a filmmaker?
As a horror lover I am a Zombie fan to the extreme. I love all things Zombie and I have a current feature Zombie film script ready to go that I would love to get made. In terms of subgenres, I am really just into taking strange concepts and finding that dark undertone. I see a lot of psychological elements that naturally creep into my work, but I also love darkly comedic moments that make you cringe and laugh at the same time.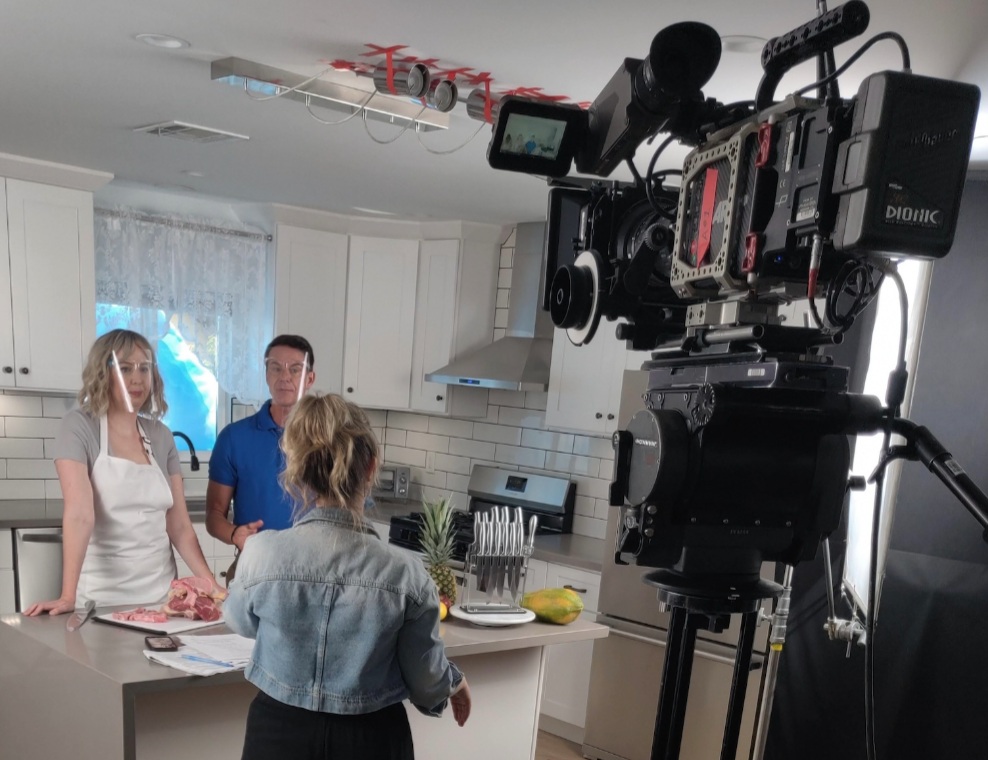 BTS on set Day 1
How do you balance suspense and scares with developing meaningful storytelling and character arcs in your films?
Character is, and has always been, the most important thing to me as a writer and I honestly cannot say enough about that. It's always my main focus in anything that I do — are you connected with the character? Because if you're not, you're not going to care what happens to them. Another thing I do as a writer is I actually watch the scenes play out through the characters shoes and visualize how they are feeling or what they are thinking in that moment. What would they actually DO here? It's really strange to watch a movie and you get to know the character so well but then they do something so uncharacteristic for them (and not in a good twist kind of way). I think you need your characters to be real people who would do things that they would actually do, and if you know them well enough that is easy to accomplish.
Can you share any insights or strategies you used to create a unique and memorable atmosphere?
I love lighting and I love the lack of lighting. In Consumed I thought about the story in three separate parts and created three separate looks through the lighting and, of course, set design. The intention is to immerse you into each part of the story by making each segment very distinct and my hope is that it helps the viewer go on the emotional ride along with our Protagonist throughout the course of the short.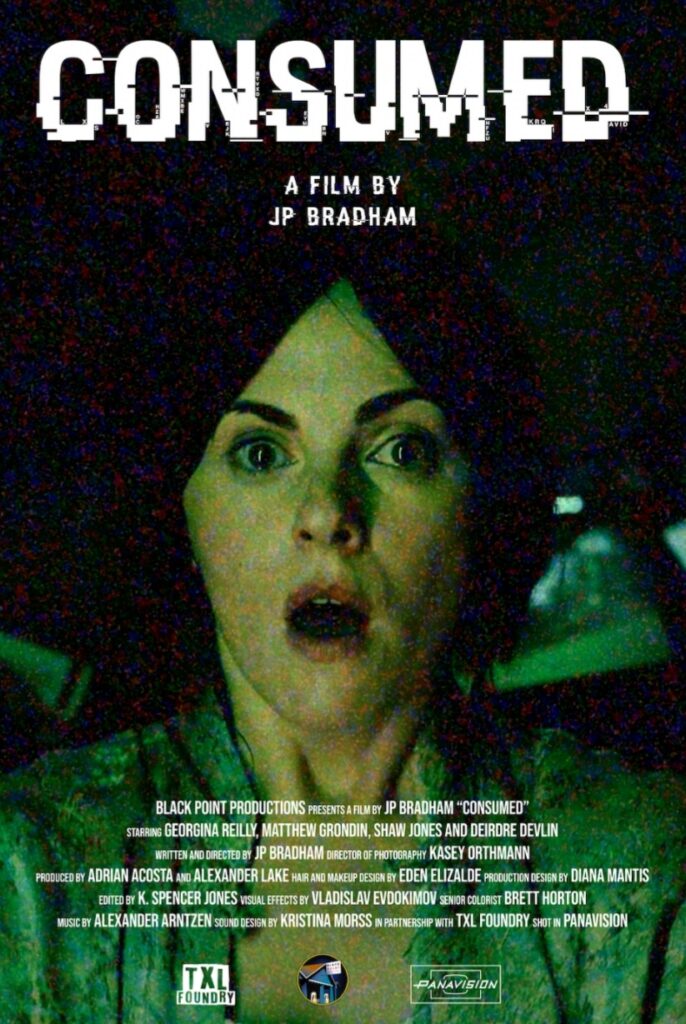 Are there any horror filmmakers who have been particularly influential or inspiring to you?
I love Karyn Kusama and Jennifer Kent as filmmakers, I think they both have such a unique and clear voice as a filmmaker and I really admire that. I also love all of George Romero's work as a Zombie lover and Dario Argento for his incredible lighting and production design.
What was the core idea behind your film Consumed? How was it conceptualized?
Going back to the non-linear thing I was talking about. . . I have ideas that are just sort of swimming around in the ethers and I'll get some random inspiration that then turns into something. Consumed started as a small thought about my thoughts and views on consumerism. Oddly enough, I come from a background in marketing and before getting into that world, I really didn't understand anything about consumerism. Learning the inner workings really opened my eyes to just how much control corporations have on the masses, to the point that, if they're doing their job well, we start to identify with the brand we are being marketed and sold. It's the idea of "I'm not an Adidas girl, I'm a Nike girl". That brand has infiltrated my life so deeply that I feel a sense of loyalty and commitment to it. It's why hundreds of millions – if not billions – are spent on marketing campaigns each year. Consumed was birthed on that idea and it grew into something insidious — how extreme could this control really go?
How was your collaboration with Quantum Leap star Georgina Reilly? From casting all the way to being on set, what did this process mean to you?
It was honestly such a surreal and incredible experience, especially as a first time filmmaker to have someone of that caliber and experience as a professional working with me on this project. Georgina is one of these incredibly insightful artists that has such a wealth of experience that she was able to explore Tammy as a character from entirely new perspectives. I know this film wouldn't have been what it was without her and I consider myself incredibly lucky to have been able to work on this film in such a collaborative way with her.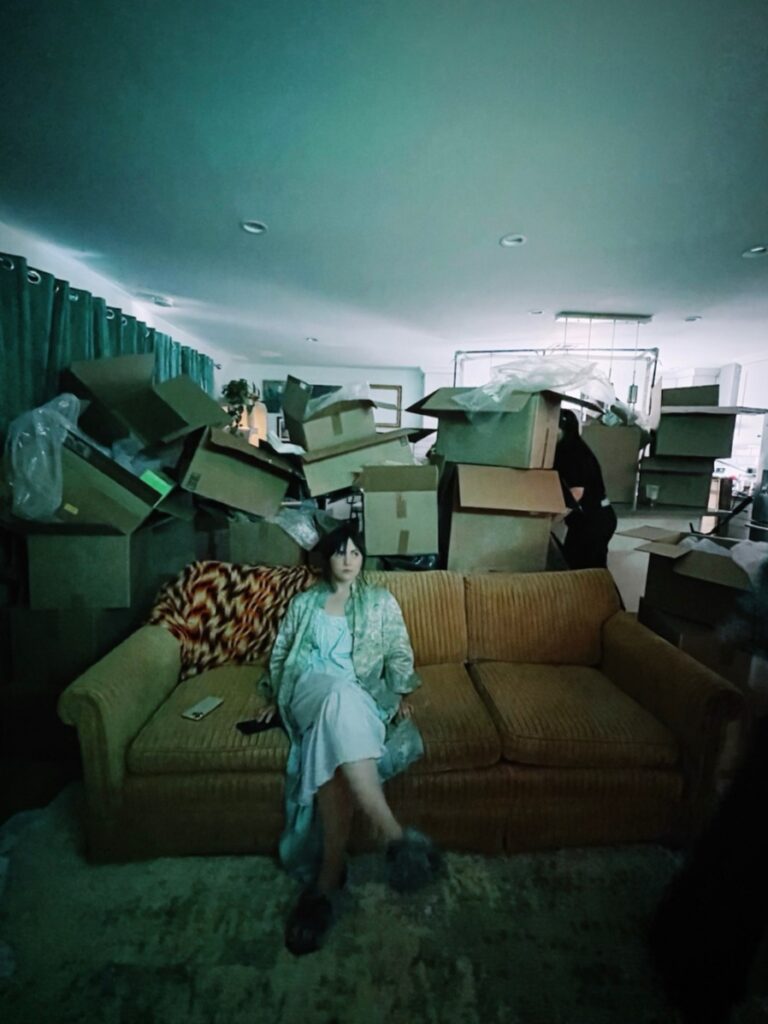 BTS picture of Georgina Reilly on set
How was your experience working with the Sundance Writers Lab? Can you walk us through the process of the program itself?
I can't say enough about the programs I was a part of. I was lucky enough to be in the first batch of writers/filmmakers that ever took a Sundance Collab screenplay writing course and to this day, I have friends from that who have all grown and been a support throughout our individual journeys. The courses themselves are incredibly insightful, clear and concise and you find real support from experienced filmmakers who have a love for independent filmmaking and a genuine desire to help you grow your individual voice. For anyone looking to do a course in screenplay writing, producing or filmmaking I would say this is an excellent place to start.
What is your general philosophy when it comes to the visual aspects of horror filmmaking, such as cinematography and production design, to enhance the overall impact of your films?
It's interesting to have been really lucky to have worked with some incredible filmmakers over the years and getting exposure to do so much of the behind the scenes work. It's really allowed me to see what I like out of the many methods of filmmaking and also helped me appreciate just how much goes into making just one film project. I think about all of these parts as a whole because you need to immerse someone into the story if it's going to really land. Even with something low budget like my film was, thinking about how to enhance each scene with the finer details really adds up and makes a much better viewing experience. At the end of the day I want the person watching this to feel like they are in this story themselves, and it has to feel that way. We also really put a lot of the focus on the Cinematography because that's something really important to me and my DP Kasey Orthmann. If we had to spend money on anything, we wanted it to be on the best that we could get. Luckily, Kasey reached out to Panavision who was gracious to hook us up with an incredible camera and lens package. It wouldn't have been what it was without those beautiful PVintage spherical lenses which just punctuated the moods we could create with the lighting.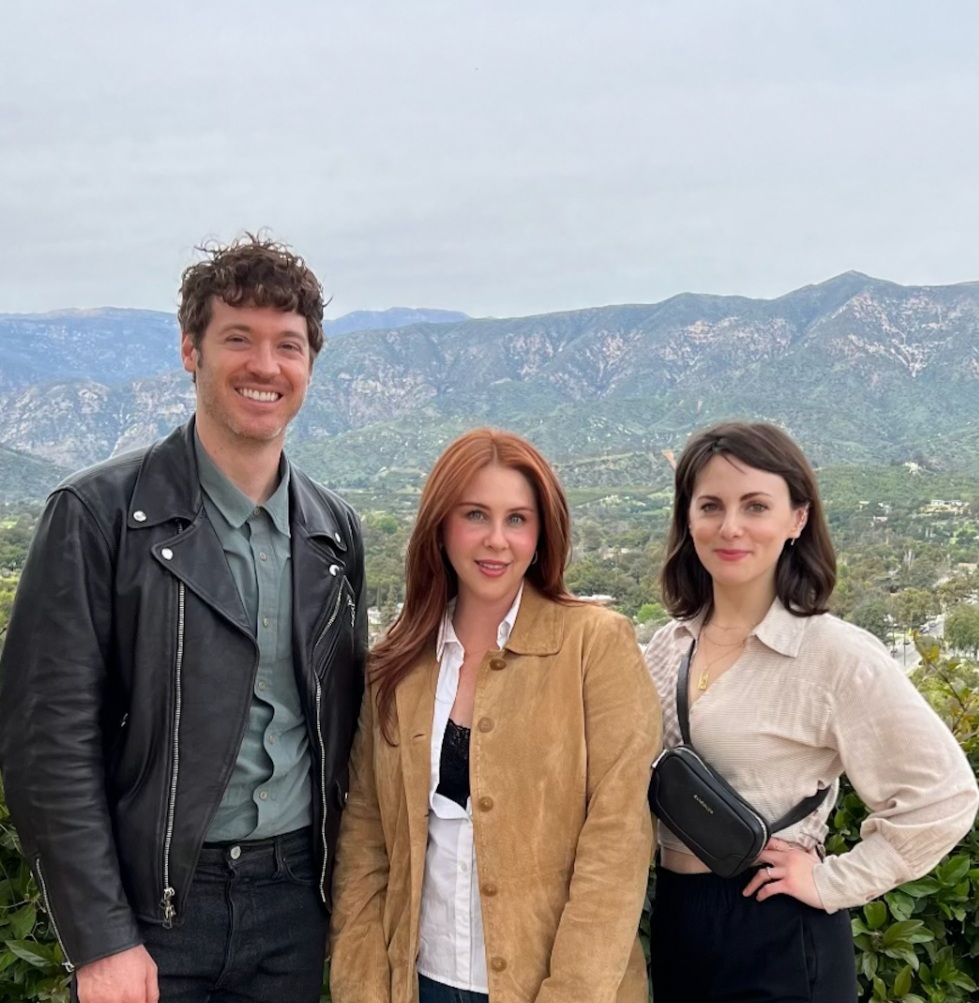 With cast Matthew Grondin and Georgina Reilly
What do you hope audiences take away from your films?
I want people to think and have a conversation around the message. They don't even have to like it. I think I've never been one to want to make something that people liked, but I do like people talking and digging deep into their personal experience around the subject matter, and if it just does that, I'll have done what I set out to do.
Have you faced any obstacles in getting your horror films seen at festivals, and how have you navigated those challenges?
I'm still in my early days of Consumed. Luckily, this isn't the first time I have gone out to festivals thanks to having been lucky enough to work with other filmmakers – I've been a fly on the wall to the process. What I've learned from previous experience and what I am taking with me, is that every festival is going to have specific things that they are looking for and what they aren't looking for. You may enter a lot of festivals to only get into a few and that's fine with me. It's a part of the process and I am just thankful that we've made it to this point and to have had the support of this film up to this point means a lot to me.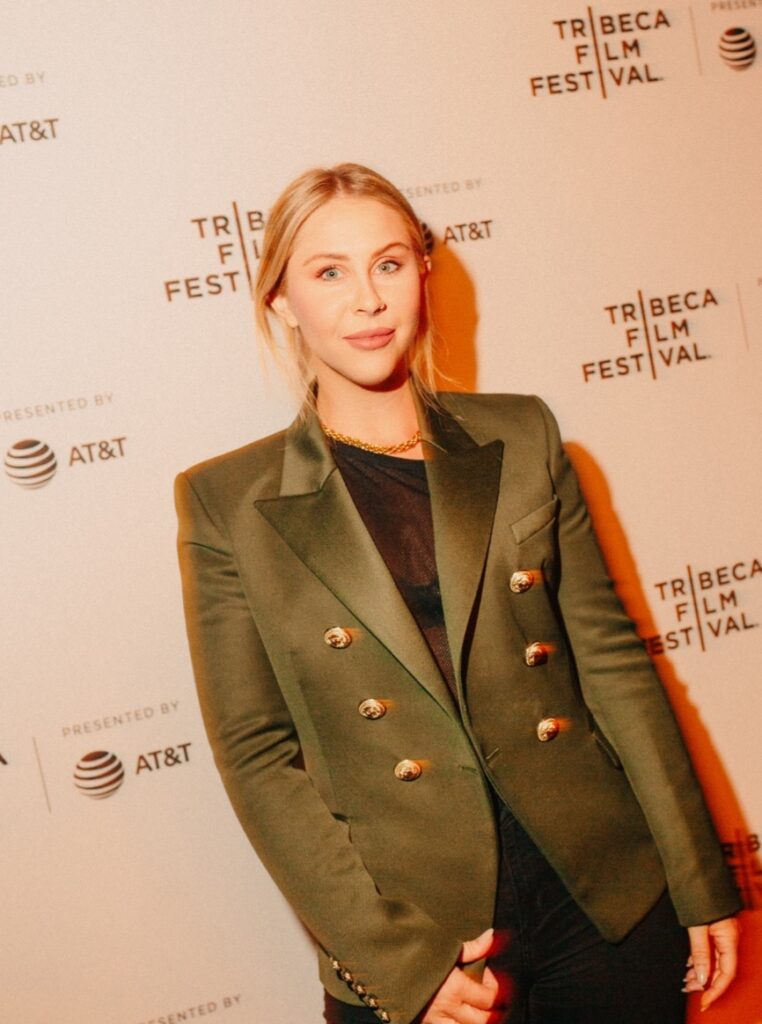 Red Carpet at the 2019 Tribeca Film Festival
Are there any upcoming projects or ideas you are excited about exploring in the realm of horror filmmaking? Perhaps other genres?
I feel first and foremost that I am a writer, that will always be something I constantly do and, in fact, I am working on a new feature film script right now. I was also happy I pushed myself to do this project because it opened my eyes to how much I genuinely loved seeing that vision I had as a writer come to life. It's doubtful I could, or would, want to accomplish that for someone else's work and I doubt I would want to direct everything I write, but I plan to continue to direct work that I feel particularly connected to. In terms of my own work, I'm sticking with horror because it's what I just tend to write and genuinely enjoy – but I wouldn't shut off my mind if I had an idea that wasn't strictly horror.
www.consumedthefilm.net